Calderdale Museum Talk on J. Blakeborough & Sons of Brighouse

A fascinating talk by Bob Canham about J. Blakeborough and Sons of Brighouse. Blakeborough Valves was a large engineering company which started trading in 1828. As the company grew, it moved to Woodhouse Works on Birds Royd Lane / River Street, Rastrick and at it's peak, employed over 1,200 people.
Entry is free for members of Calderdale Industrial Museum, and guests are welcome for a charge of £4. Tea/coffee/biscuits will be available for donations.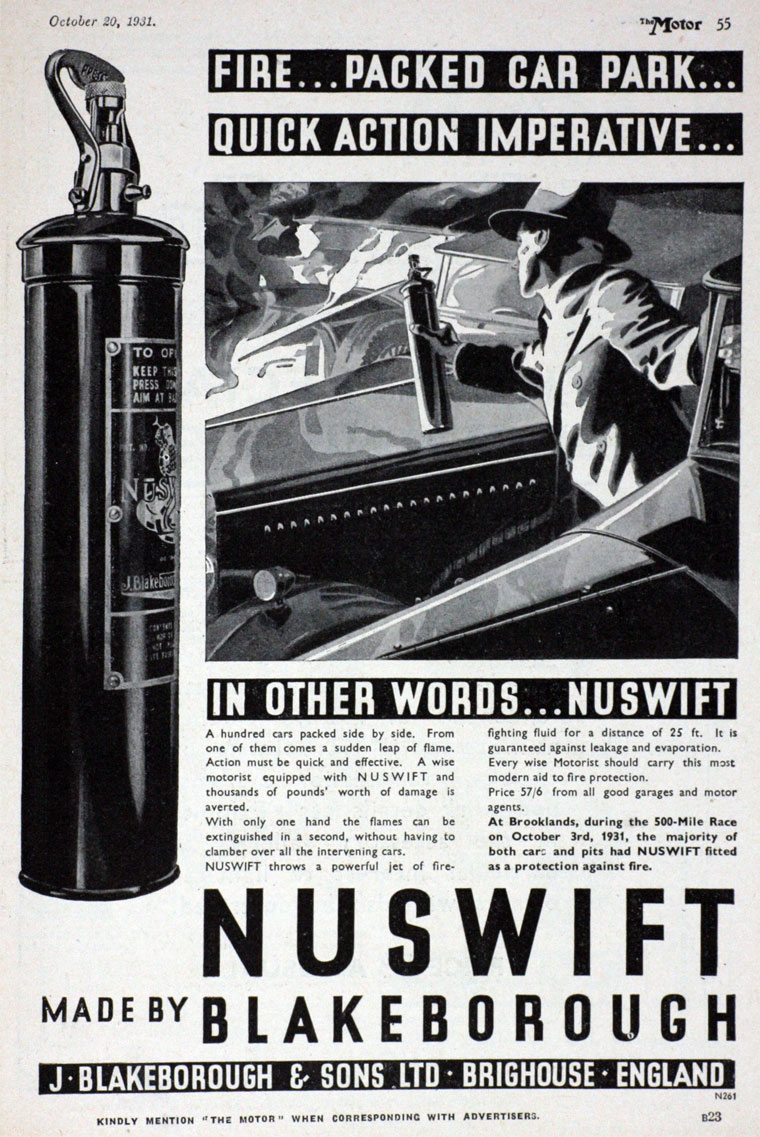 Public meeting: The Great Strike of 1842: Halifax's Peterloo?
Sunday 17th July 2022 11am – 1.30pm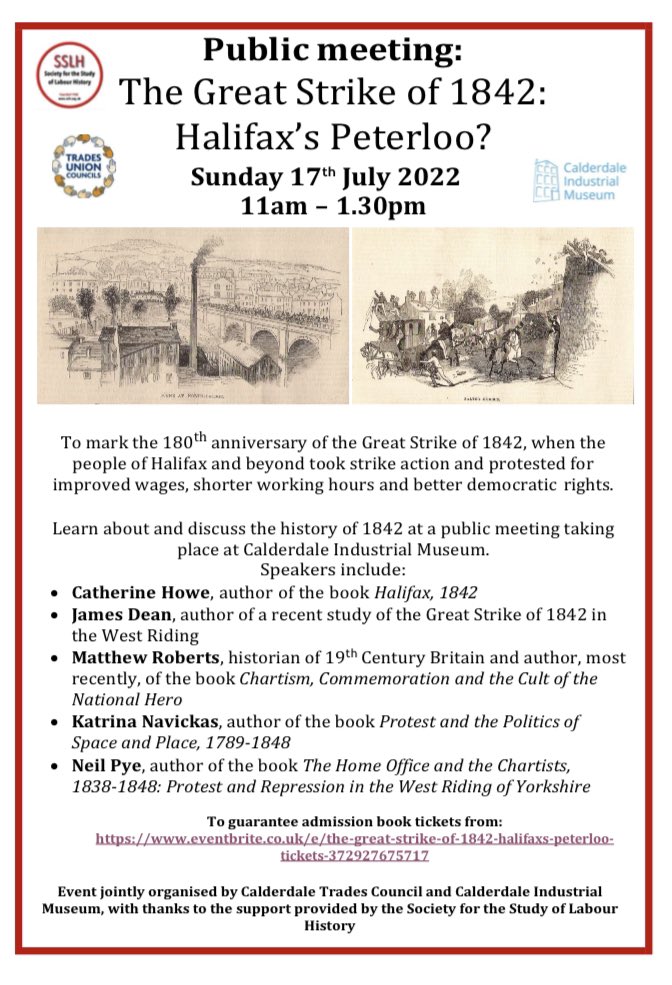 To mark the 180th anniversary of the Great Strike of 1842, when the people of Halifax and beyond took strike action and protested for improved wages, shorter working hours and better democratic rights. Learn about and discuss the history of 1842 at a public meeting taking place at Calderdale Industrial Museum.
Speakers include: • Catherine Howe, author of the book Halifax, 1842 • James Dean, author of a recent study of the Great Strike of 1842 in the West Riding • Matthew Roberts, historian of 19th Century Britain and author, most recently, of the book Chartism, Commemoration and the Cult of the National Hero • Katrina Navickas, author of the book Protest and the Politics of Space and Place, 1789-1848 • Neil Pye, author of the book The Home Office and the Chartists, 1838-1848: Protest and Repression in the West Riding of Yorkshire
Tickets available from: https://www.eventbrite.co.uk/e/the-great-strike-of-1842-halifaxs-peterloo-tickets-372927675717
Event jointly organised by Calderdale trades council and Calderdale Industrial Museum, with thanks to the support provided by the Society for the Study of Labour History.
Celebrate the Queens Platinum Jubilee at the museum
To celebrate the Queens Platinum Jubilee, and because it is Calderdale school holidays next week, the museum will be open on Thursday 2nd June in addition to our regular Saturday opening on 4th June. We are open 10am to 4pm, with last entry at 3pm.
The volunteers will show you around the museum and discuss how Halifax has changed over the 70 years that the Queen has been on the throne.
Enjoy a delicious cream tea and a traditional ploughman's lunch in our cafe.
New exhibition opens on Saturday 30th April
Join us this Saturday for the launch of our brand new weaving exhibition. Please visit our "Current Exhibitions" page for further information.

Easter Fun at the Museum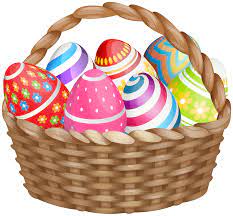 Pop into the museum this Easter and follow our Easter Trail. You will get a certificate and prize if you can complete it ! All our volunteers will be here to help you.
After your visit, have a break in our cosy cafe, now serving a range of lunches, snack and cakes.
The museum will be open on Thursday 14th and Thursday 21st April in addition to our normal Saturday opening. Children are free, and there is a £5 charge for adults, £4 for concessions.
Our fantastic wood carving exhibition by Anthony Griffiths will also come to an end this Saturday, on the 23rd April, so it is your last chance to see it. Tony has added several new pieces to the exhibition and can usually be found carving here when the museum is open to the public.
Here are a few of the new pieces that are on show now. They tell part of the story of how fleece from sheep is turned into cloth.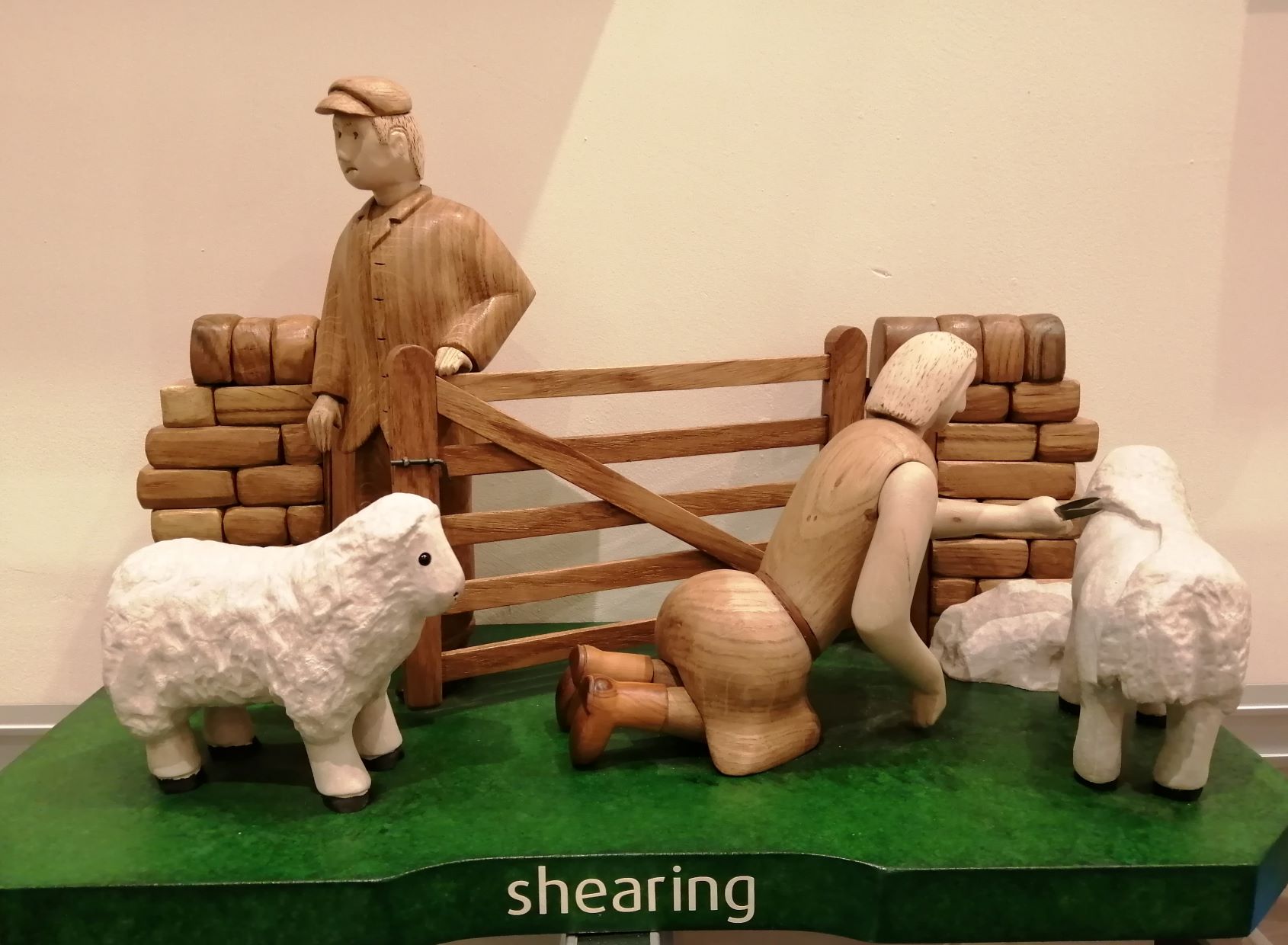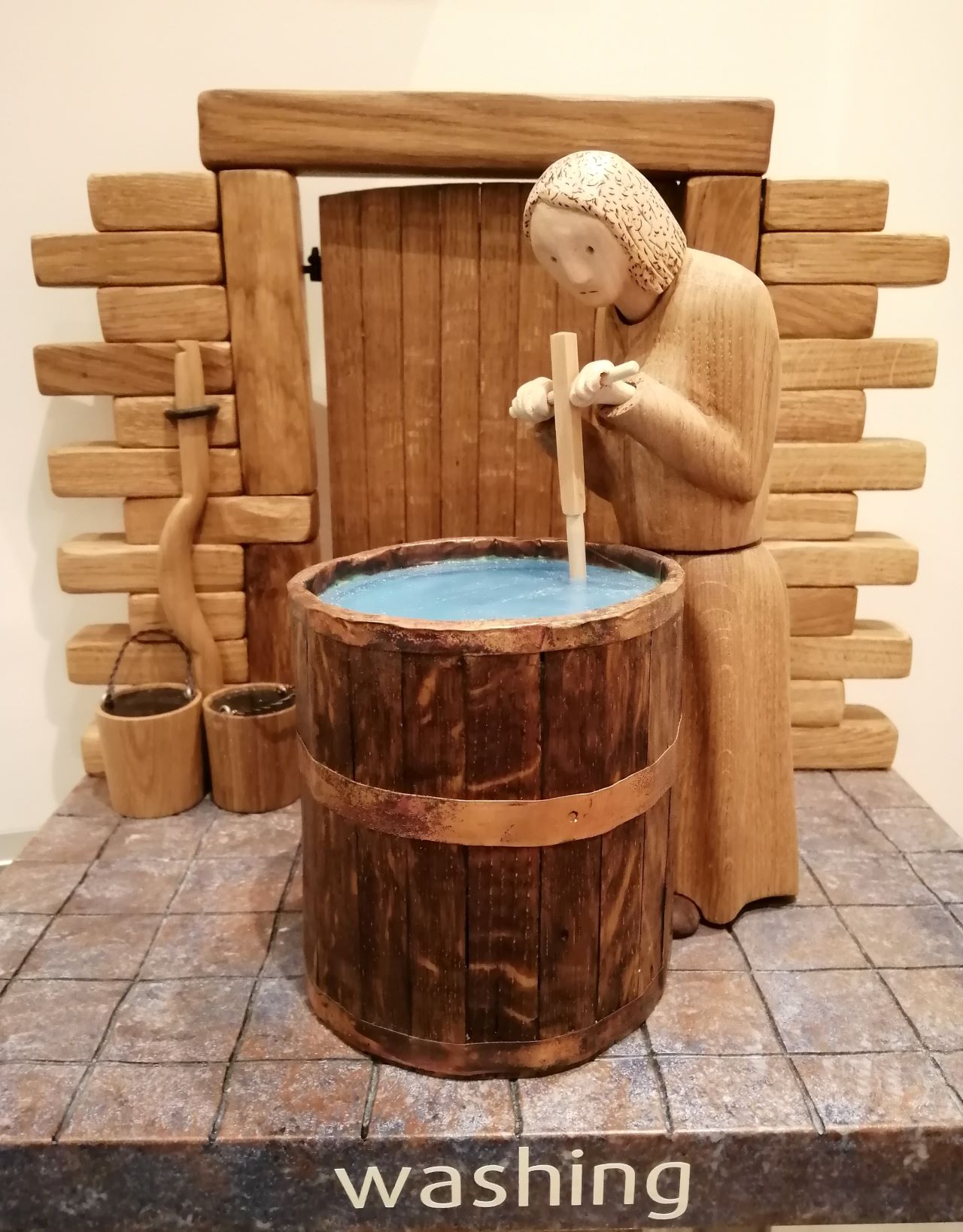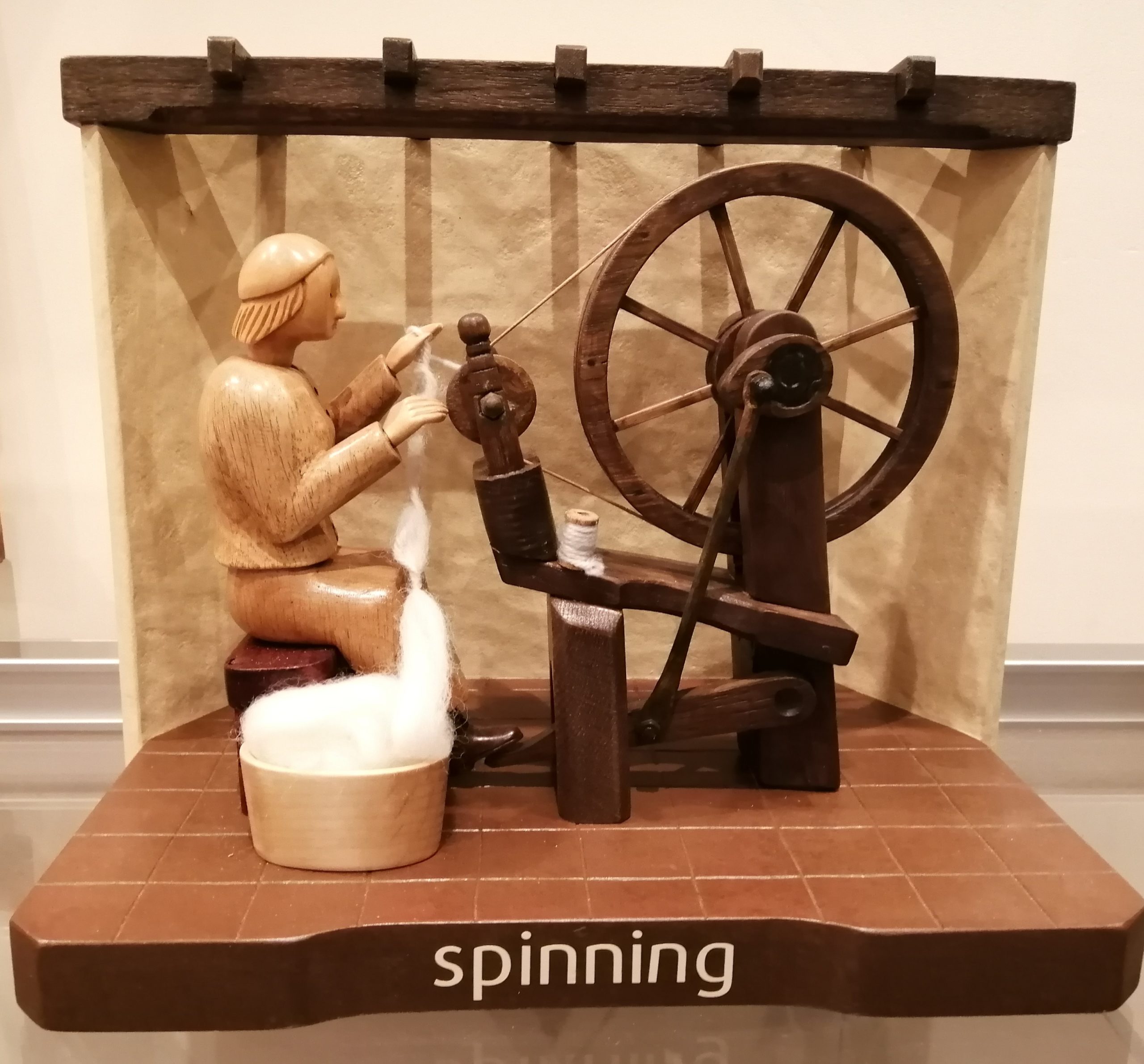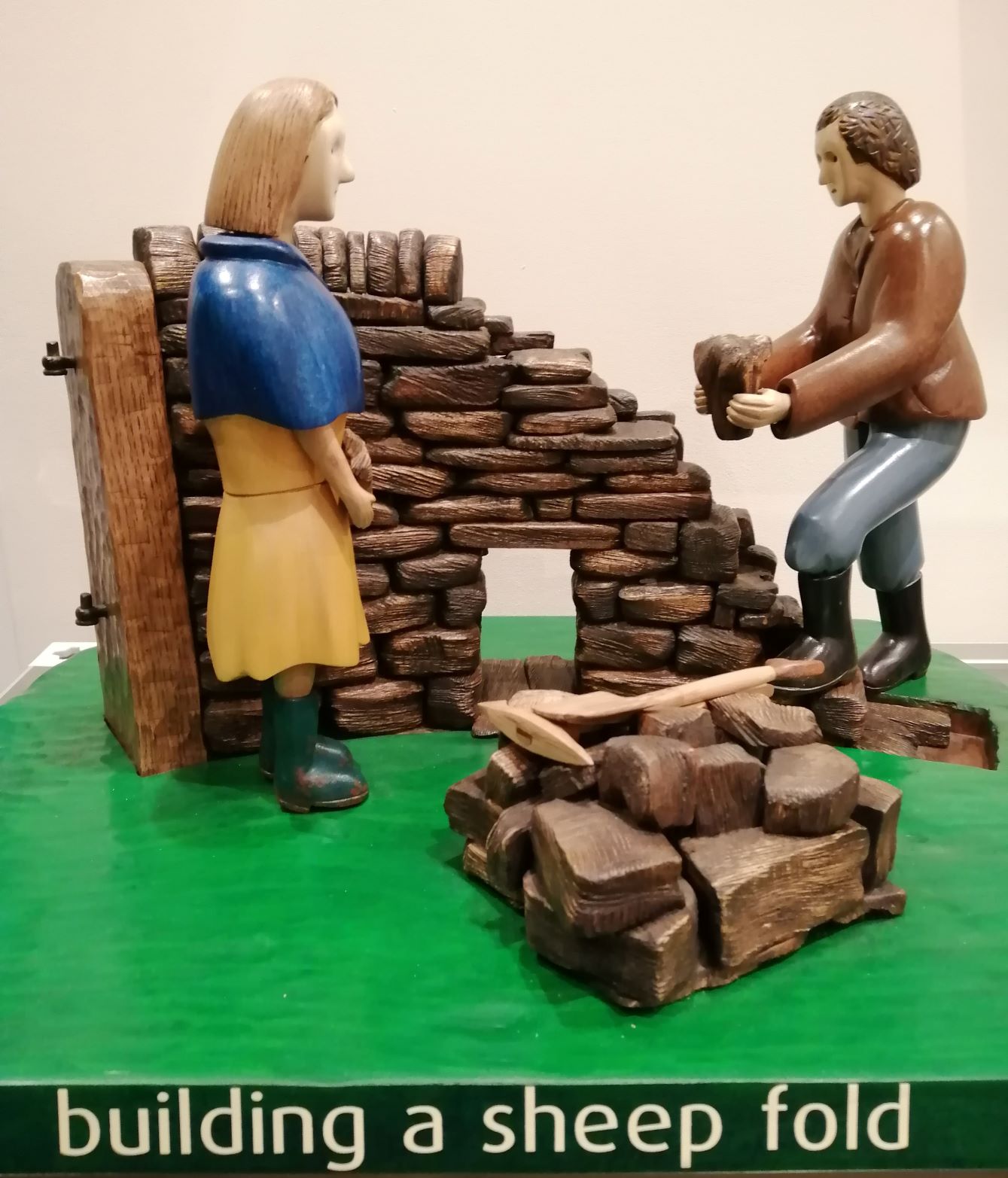 Anne Lister Birthday Festival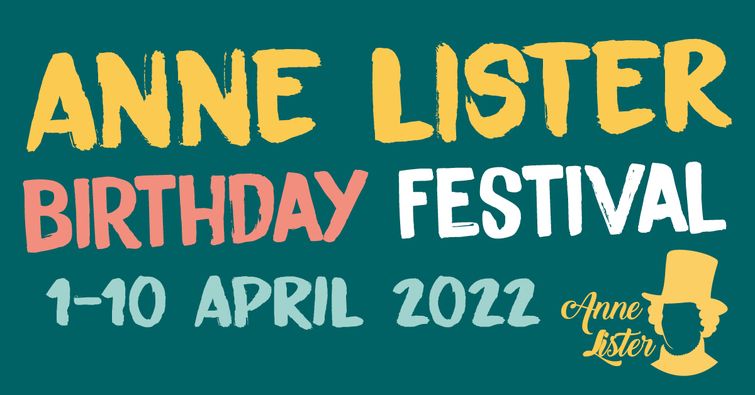 Sunday 3rd April marks the 231st birthday of  Anne Lister – local scholar, business woman, landowner, lesbian and traveller, and to celebrate this, Calderdale are holding the inaugural Anne Lister Birthday Festival.
Anne was born in Halifax 3rd April 1791 and the detailed coded diaries that she wrote have given us an amazing insight into her life. Since the Sally Wainwright series about her "Gentleman Jack" aired, she has become an international icon. To celebrate the Anne Lister Birthday Festival in Halifax, we have extended our opening hours for the special week, and have revamped our mine to reflect Anne's involvement in the local mining industry.
We will be open on Sunday 3rd, Tuesday 5th, Wednesday 6th, Thursday 7th, Friday 8th, Saturday 9th April 2022, 10am to 4pm, with last admissions at 3pm.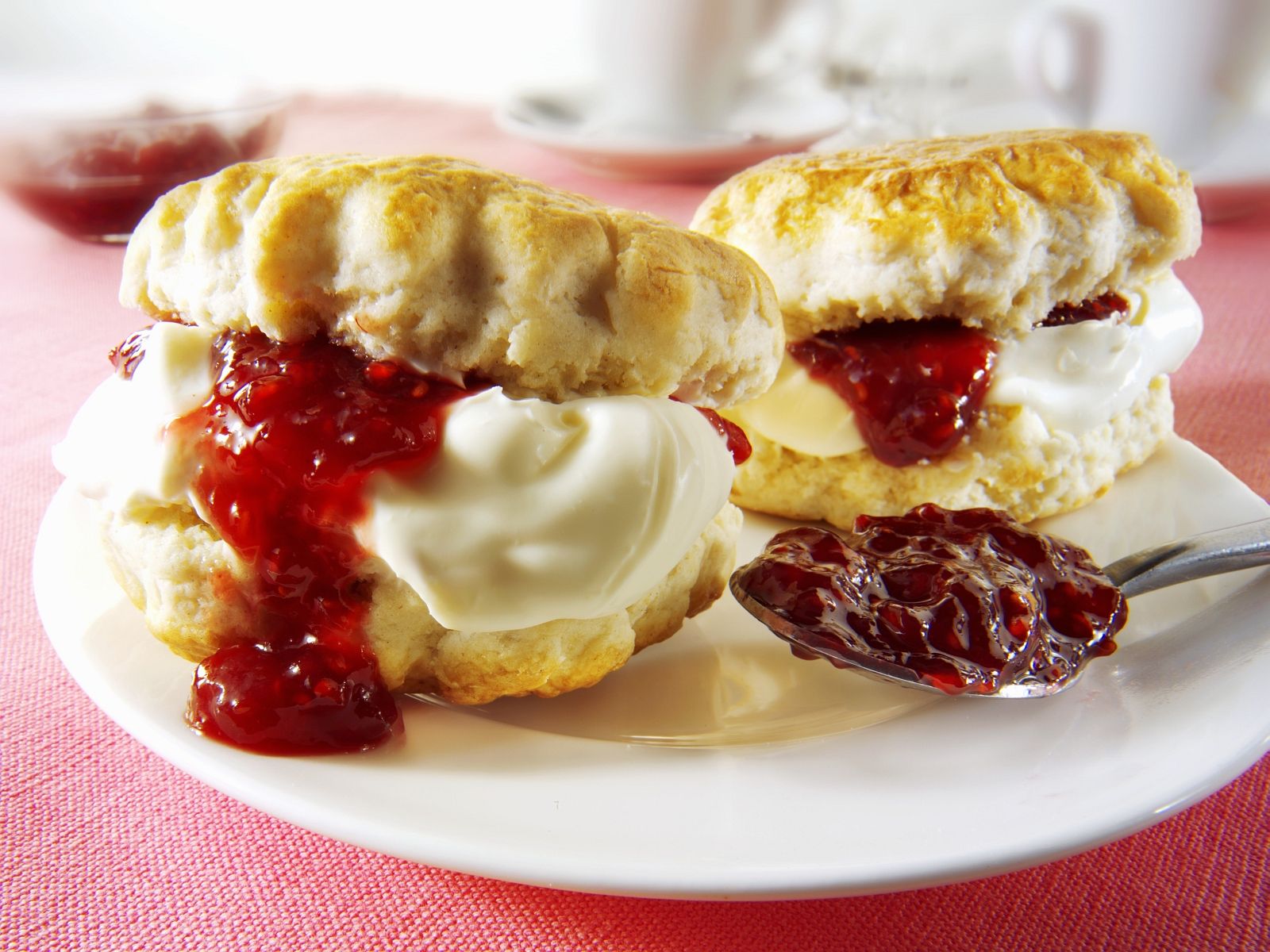 Our cafe will be open on all the above days, except for Tuesday 5th and Wednesday 6th and will be serving homemade soup, sweet and savoury scones with jam and clotted cream , toasted muffins and home made cakes. Gluten-free and vegan options are available.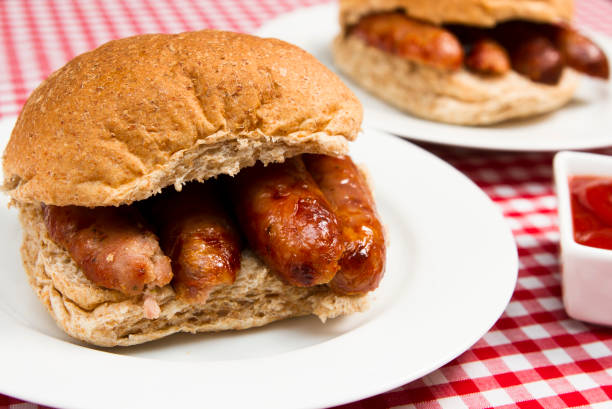 In addition on Sunday morning 10am-12pm, while stocks last, breakfast rolls including bacon, sausage, vegetarian sausage, mushroom and tomato will be available, as well as a vegan option.
Terry Sutton Gallery Opening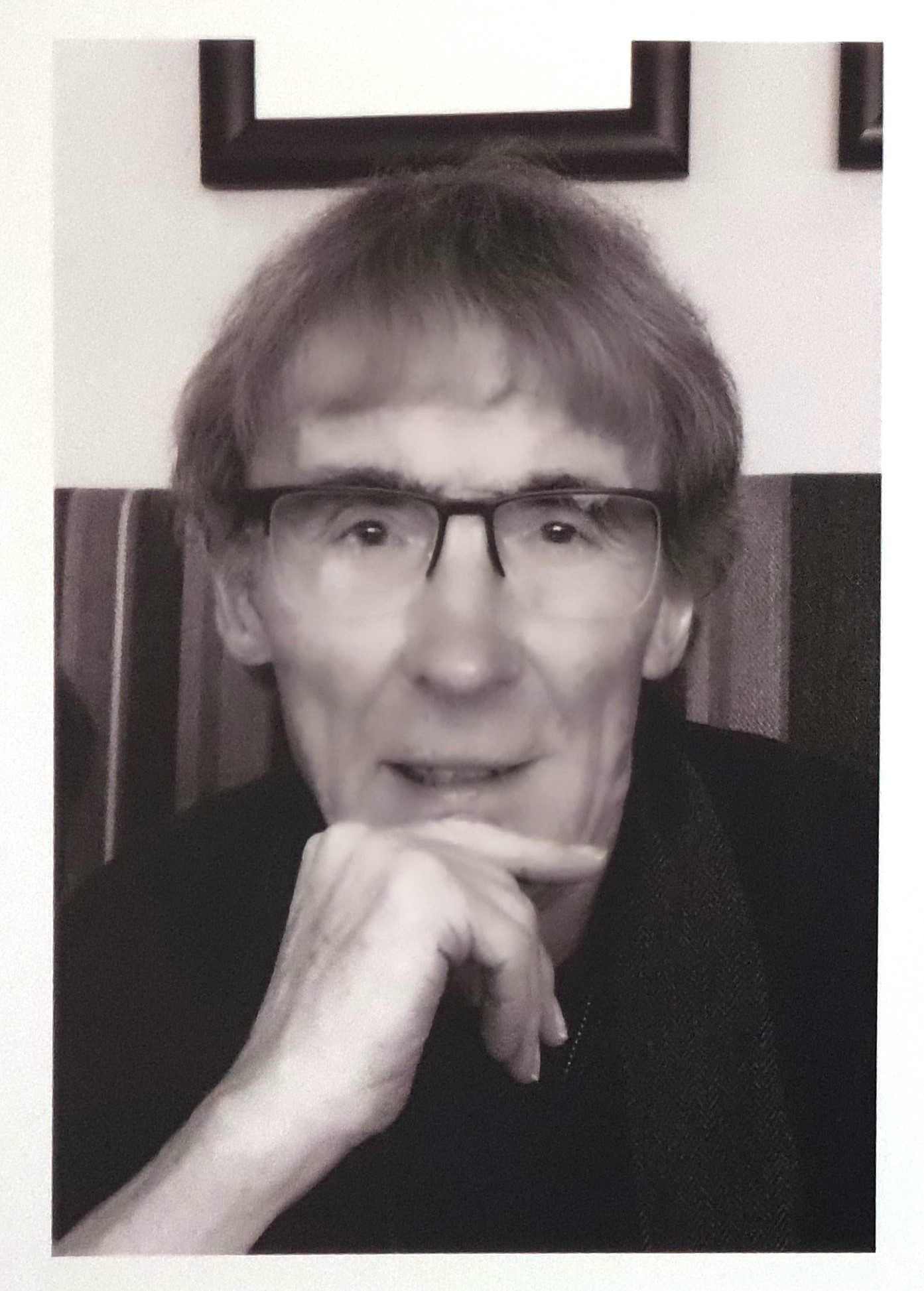 On Friday 4th March the Terry Sutton Gallery at Calderdale Industrial Museum was officially opened and dedicated to the memory of Terry.
Here is a summary of the tribute that Tim Kirker paid to Terry at the opening.
Terry was involved in the museum from when it opened in 2017. He designed leaflets for the museum in 2018 and worked closely with the Collections team to develop a house style for the information panels around the the building. He was diagnosed with Multiple Myeloma in July 2018, and provided regular updates from his sickbed, always apologising that he couldn't do more. He gave Calderdale Industrial Museum Association the rights to use all his "industrial" material for the benefit of the museum, cards, posters, signed books…
Terry died in June 2019, and a  "temporary" exhibition of Terry's work opened in the museum in September 2019. Looking back over those four years, Terry was ill for much of that time. It is amazing how much he achieved, and how much of a mark he has left on the museum. He just never stopped. Scanning back through our correspondence that he was writing from his bed in Pinderfields, from his bed at home (when he could get anywhere near his computer) "I'm still here, he would say, keeping on keeping on…I'll be in next week." The temporary exhibition has proved so popular, it is now permanent.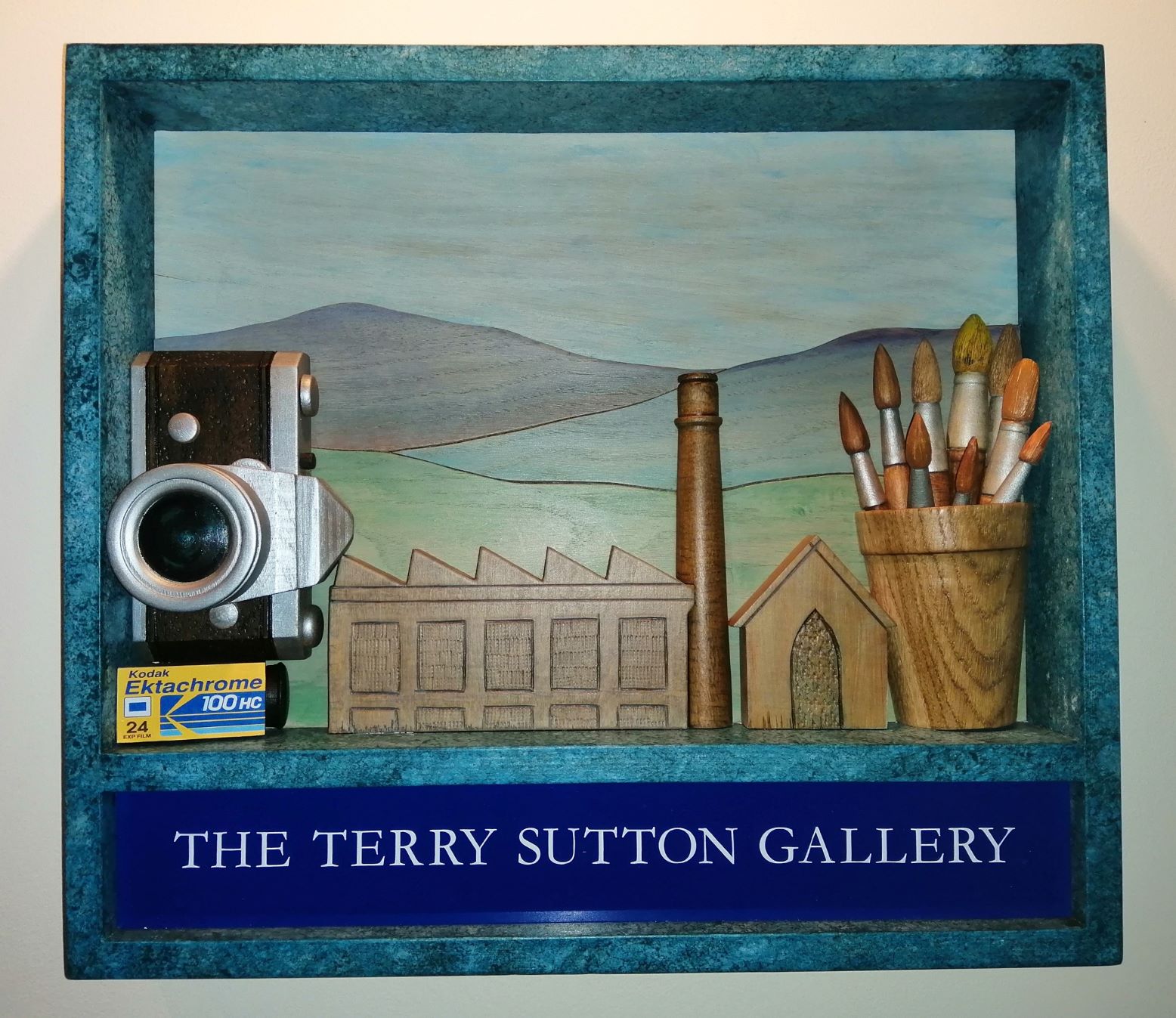 He was a great guy, a pleasure to work with,  he never had a bad word about anybody. He always seemed so pleased to be supporting this crazy project, but in truth, it was the other way around – we were just so grateful that he thought we worth supporting. And we are so grateful that Terry's family let him out to play, when I'm sure they would rather have had him at home, especial thanks to Matthew for the taxi service.
So when ideas for our new exhibition space came together, it was a unanimous decision to call it the Terry Sutton Gallery. Our second exhibition is now installed in the gallery, showing the amazing wood carving skills of Tony Griffiths. To mark the occasion today, Tony has kindly carved a wooden plaque to be hung permanently in the gallery, in memory of Terry.
Thanks were expressed to Terry's wife Susan for unveiling the plaque and to our friends at Museum development Yorkshire who have funded most of the external costs of creating the exhibition space. We should also like to acknowledge the wonderful support we get from Falconer Print who have provided all the prints of Terry's work free of charge. The influence of their designer, Katie Kershaw is evident in the plaque that Tony has carved.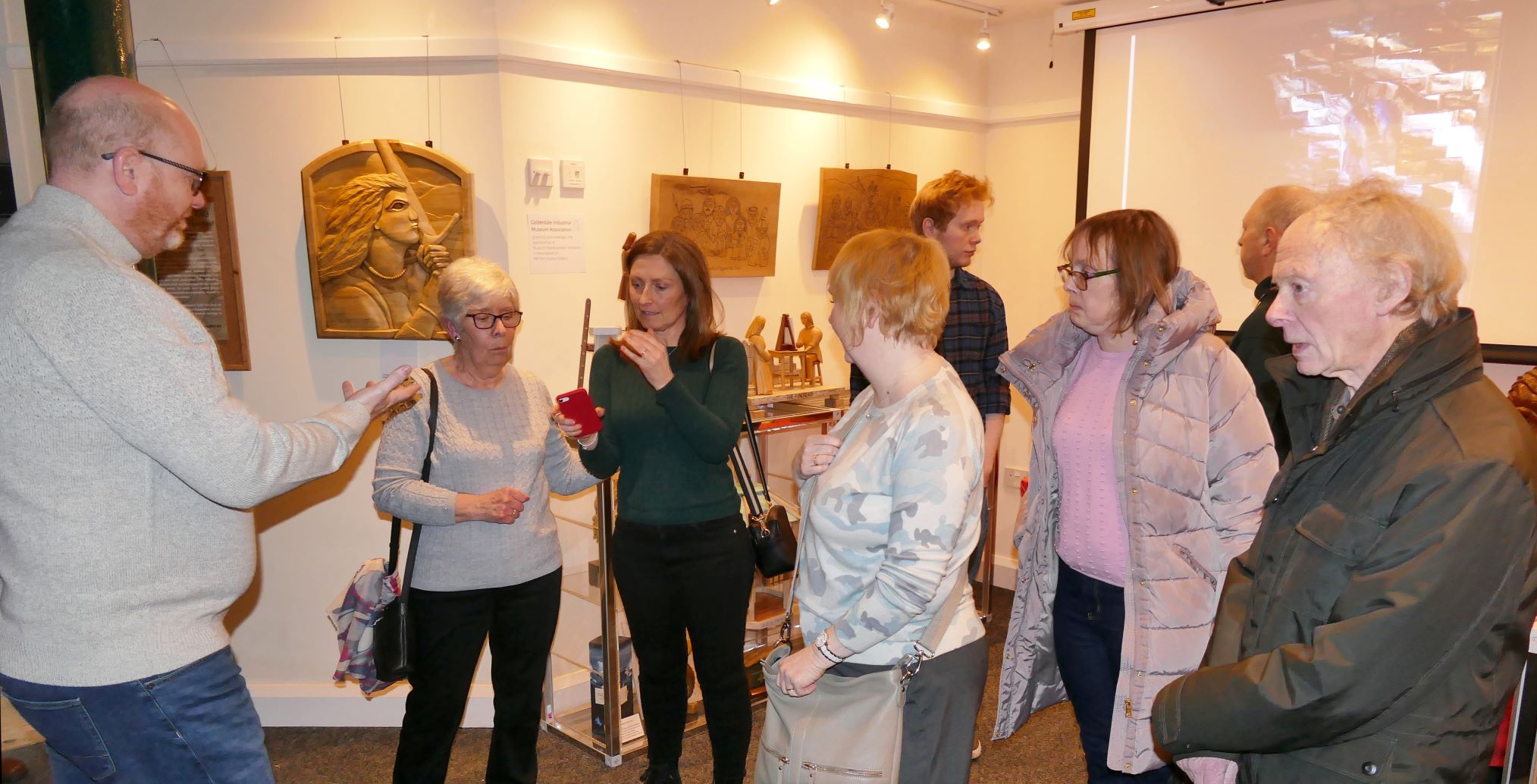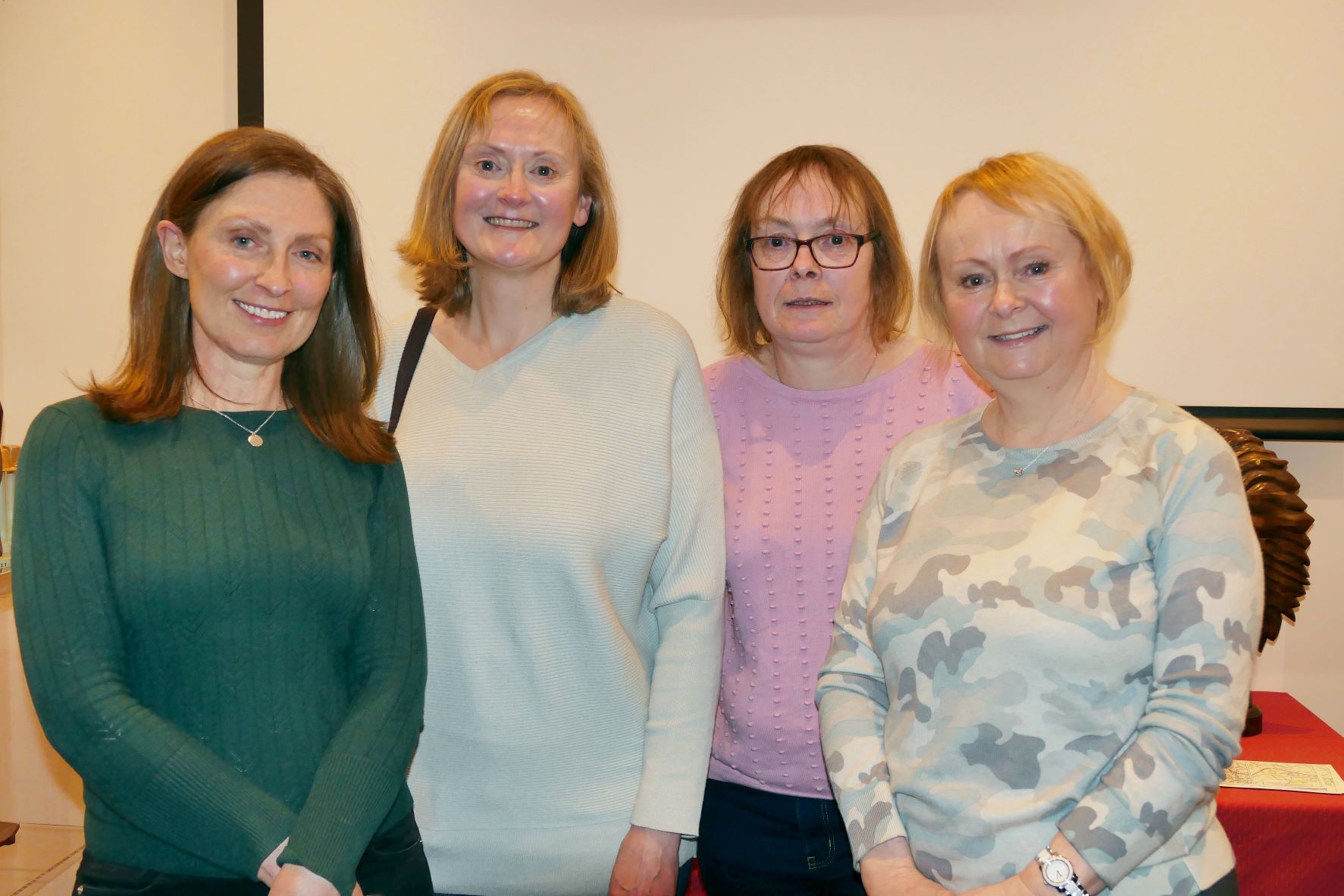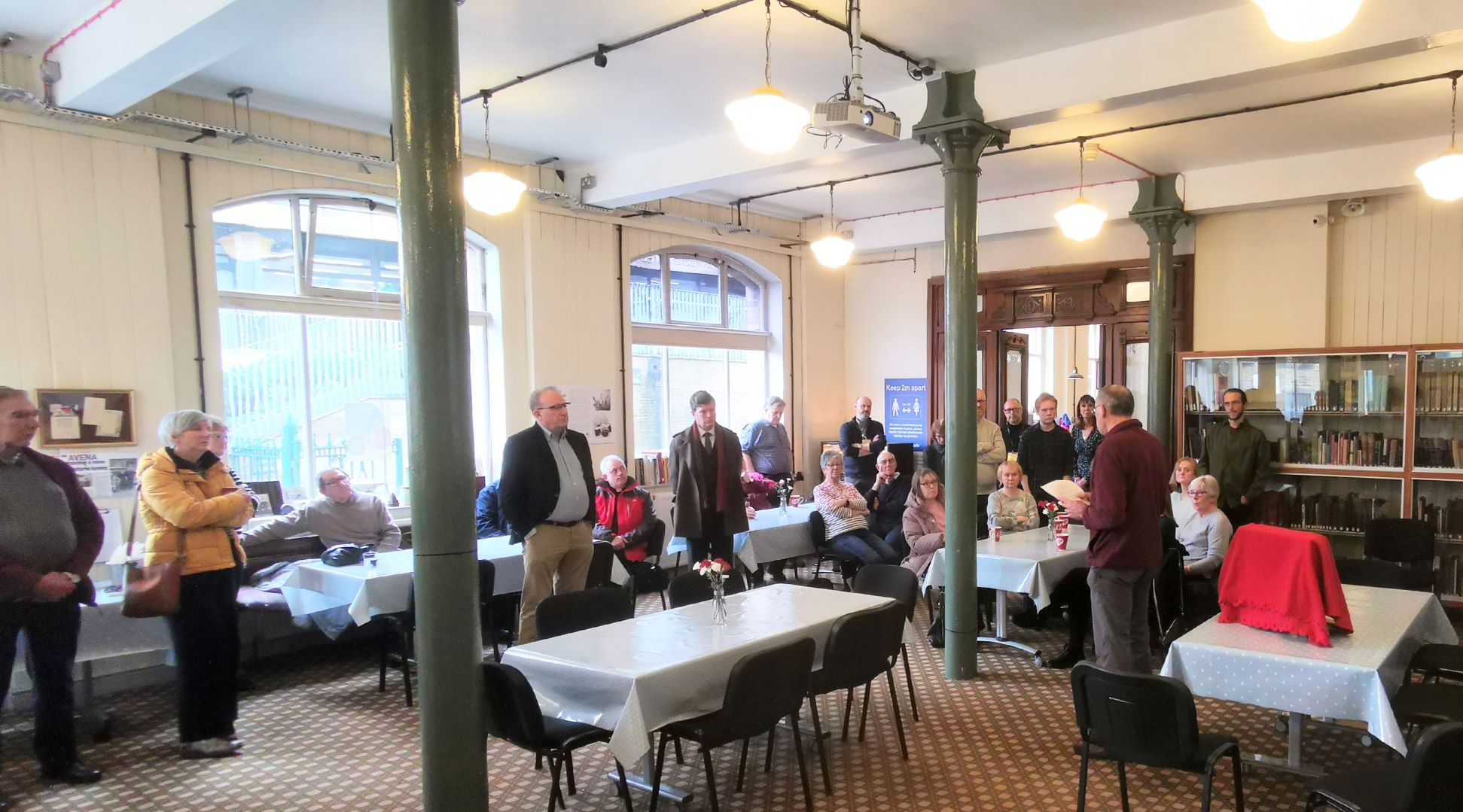 It's wash day at Calderdale Industrial Museum !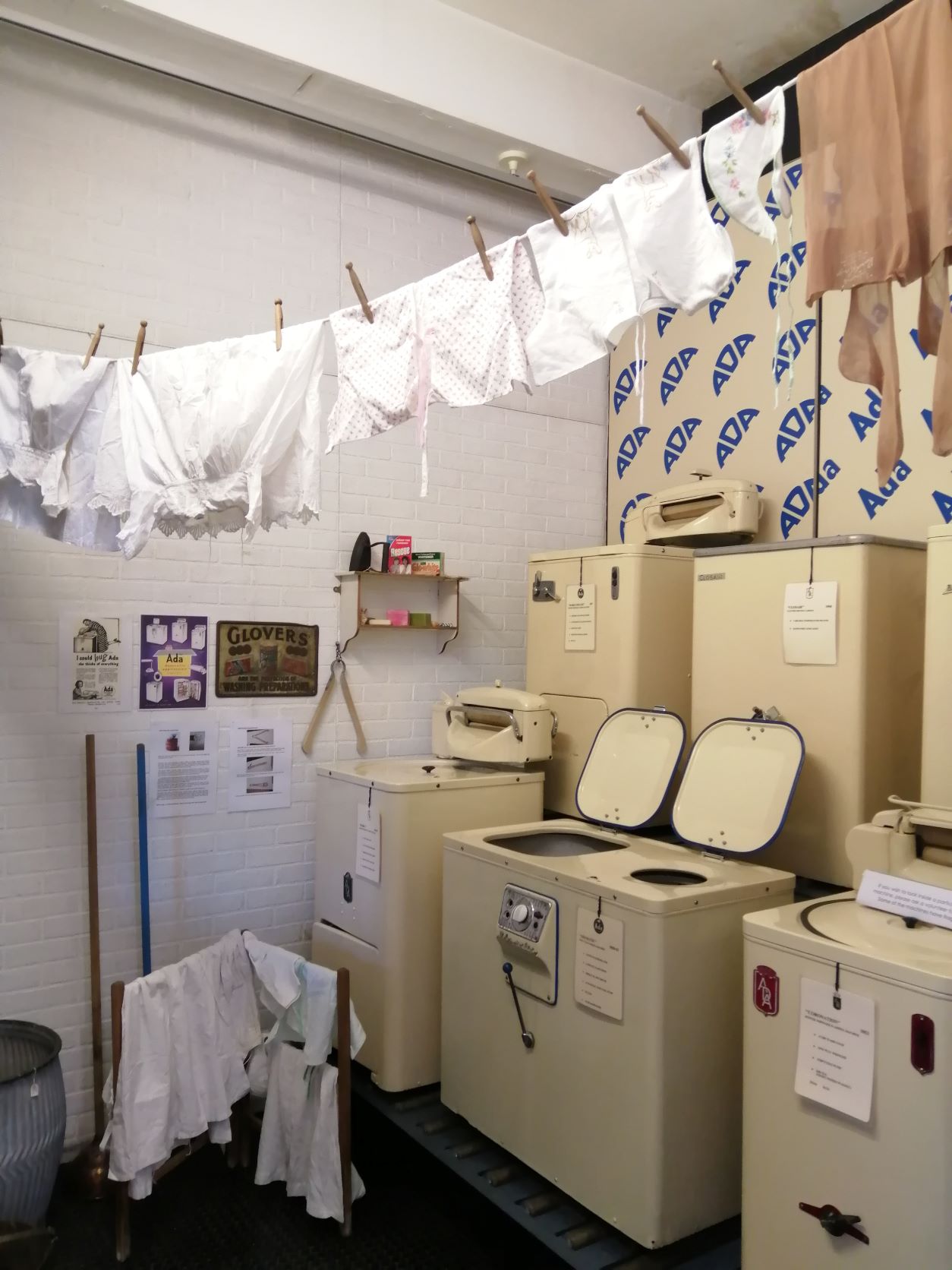 Join us on a Saturday to find out about the fascinating history of the washing machine. Halifax was once a major manufacturer of washing machines. Ajax Machine Tools was formed in 1939, and named after the battle cruiser "Ajax" . The ship was adopted by the town of Halifax in World War 2. The company made industrial drilling and milling machines in their Halifax factory, but after the war, started to manufacture washing machines and other domestic appliances branded "ADA". In 1950, a new public company was formed "AJAX Domestic Appliances – ADA". ADA was acquired by the Dutch company Philips in 1960, and in 1970 the company built a new factory in Lightcliffe to make domestic appliances.
This factory was due to close in 1985, and Philips were not prepared to sell their washing machine business to allow production to continue, however they were happy to buy tumble dryers if made under licence by another manufacturer. So in 1986 the new company of Crosslee was founded as a management buyout by David Ross and Derek Lee. They continued to manufacture "White Knight" tumble dryers until 2019. The factory was demolished in 2020 and there are now plans to build 91 houses on the site.
Calderdale Industrial Museum is open every Saturday 10am to 4pm, last admission 3pm and also on Thursdays in the school holidays.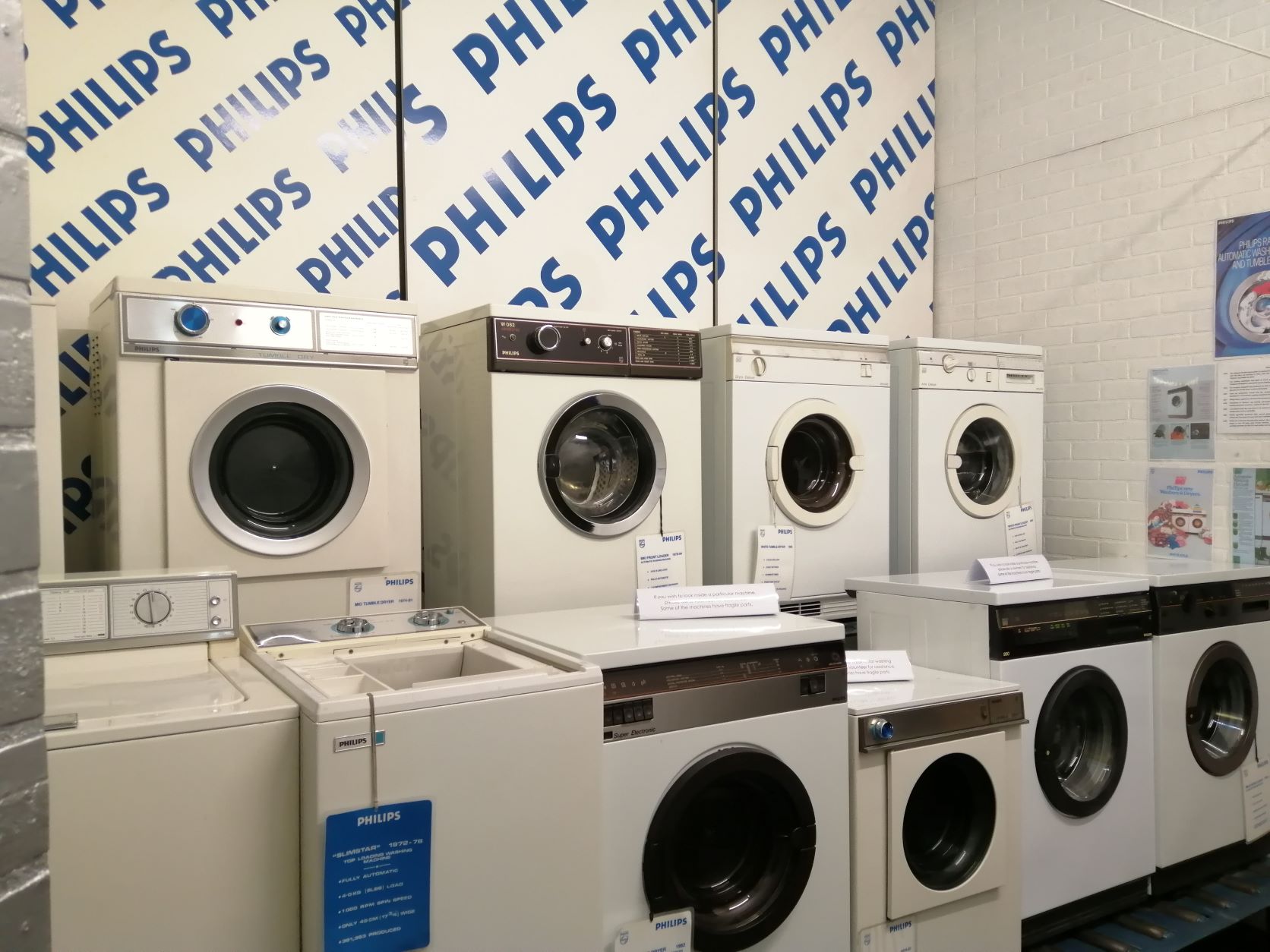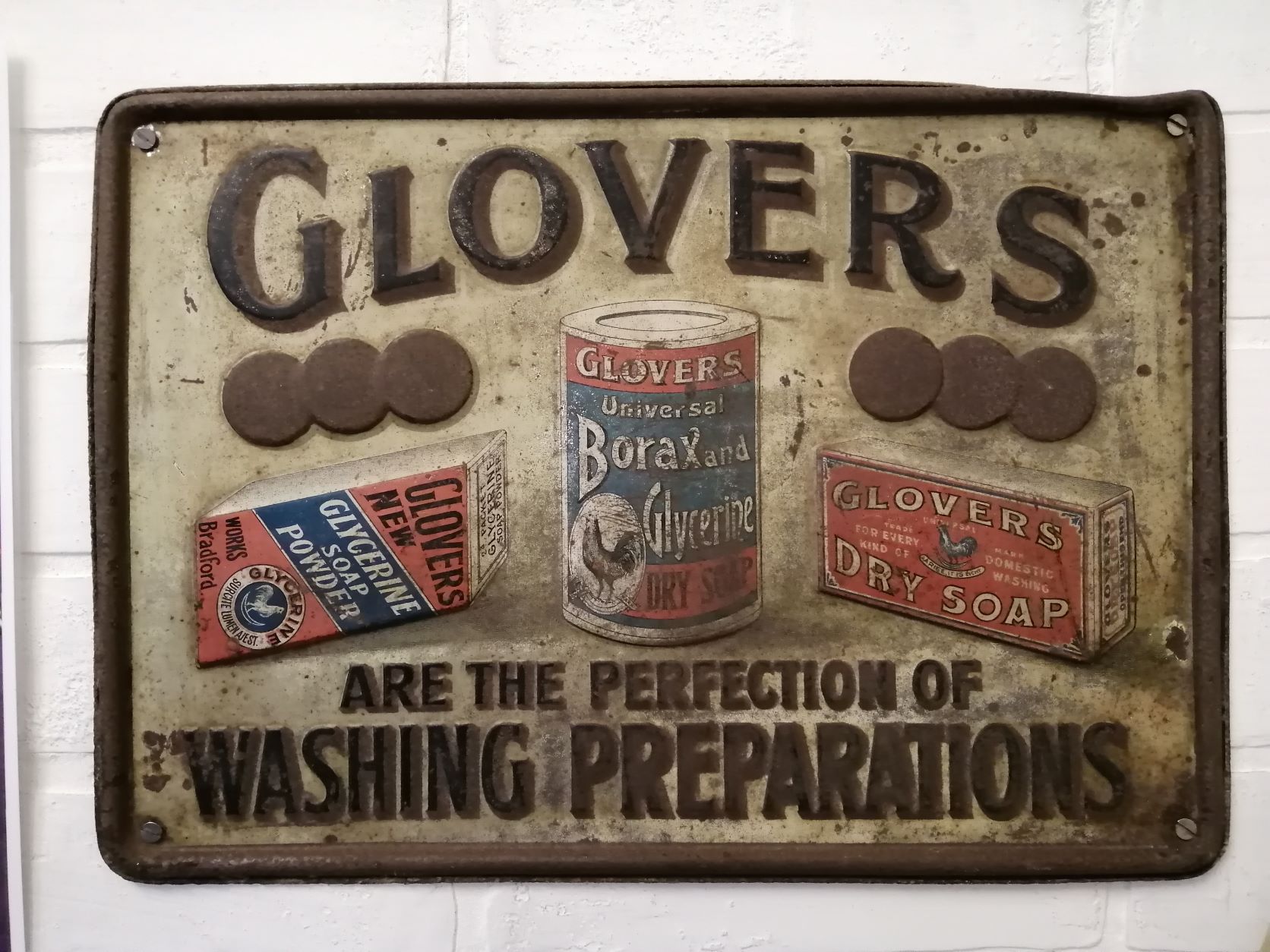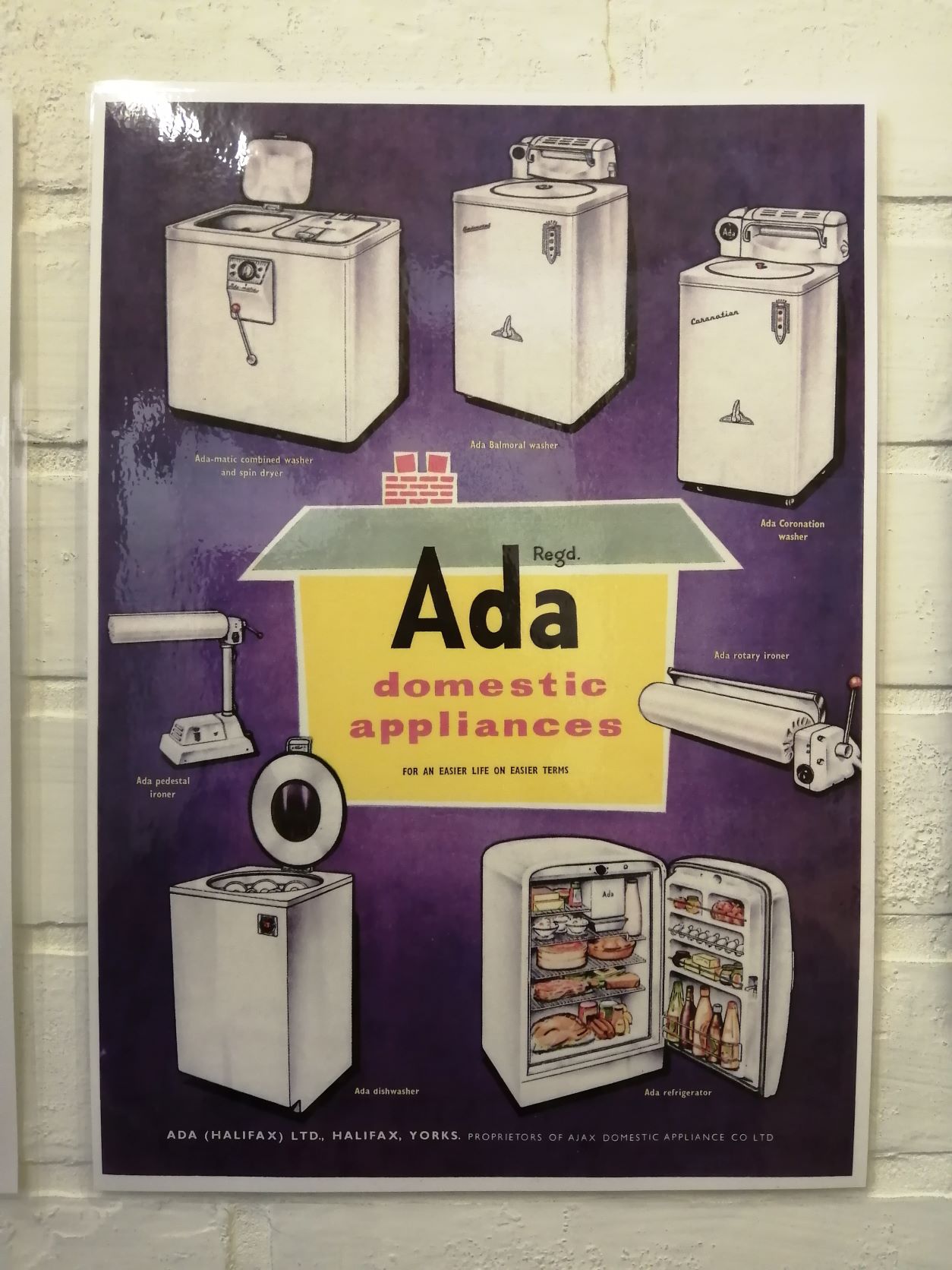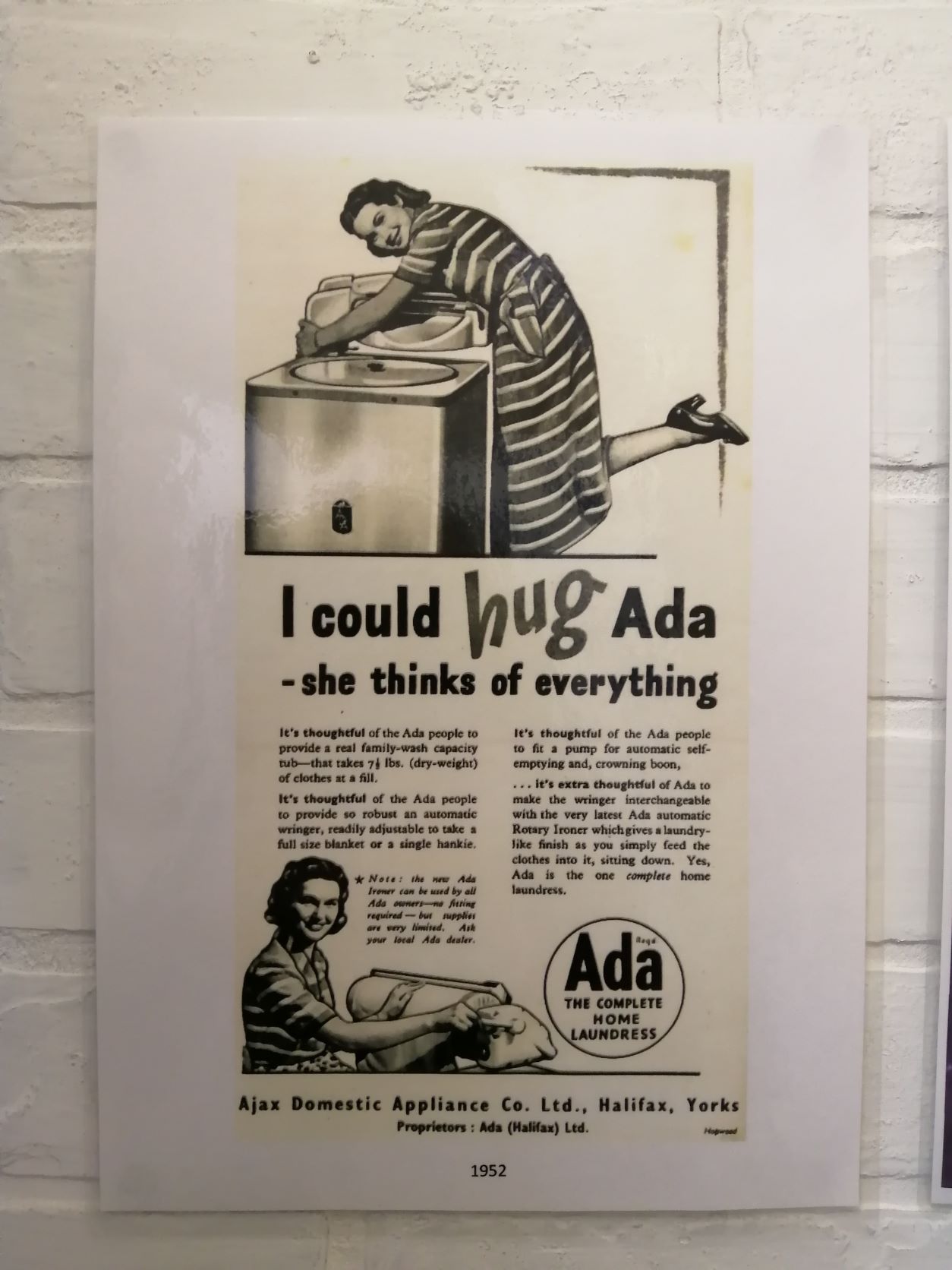 Britain's Novel Landscapes – with Mariella Frostrup
If you are wondering what to watch on tv, why not turn on More 4 and watch the latest episode of their new series "Britain's Novel Landscapes – with Mariella Frostrup". This episode features the Bronte's Yorkshire and filming took place here in the museum last year. Mariella had a lovely time trying her hand at various skills and we are hoping that the sections filmed here will feature in the final programme.
Exciting New Exhibition Launched – New carvings added !
Please visit our "current exhibitions" page for further information about our new exhibition. Anthony has just replaced nine of the original carvings that were in the exhibition with new ones.

Happy Christmas !
Calderdale Industrial Museum would like to wish all our volunteers, members and visitors a very Happy Christmas and New Year !
We will be open to the public again on Saturday 8th January 2022 from 10am.

Volunteer Christmas Dinner
There was great food and conversation at the Calderdale Industrial Museum volunteers Christmas dinner last week at Julio's Restaurant in Halifax.
If you would like to become a volunteer at the museum, please email manager@calderdaleindustrial.co.uk. We are looking for a wide variety of volunteers, but our current focus is on volunteers who would like to interact with the public on our Saturday open days. We need volunteers guides, and volunteers to help in our cafe, shop and at our reception/ticket desk.

Christmas at the Museum
Calderdale Industrial Museum is only open for the next two Saturdays before Christmas, the 11th and 18th December. We are then closed until Saturday 8th January 2022, so this is your last chance to come into the museum to have a look at our Christmas decorations and lights and follow our Elf Trail. Our cafe is open to all, regardless of whether you have a ticket for the museum, and will be serving seasonal specials including homemade mincemeat shortbread, orange and lemon cake and delicious hot chocolate with homemade marshmallows and cream ! Don't forget that we have a lovely selection of locally produced gifts in our shop too.

Spotlight on our shop and cafe
If you are looking for an interesting, unique, locally made gift this Christmas why not pop into Calderdale Industrial Museum to visit our shop and cafe. They are open to all 10am to 4pm every Saturday. You don't need a ticket for the museum to come in. Our cafe serves delicious soup, snacks and homemade cake in a cosy and quirky environment.
If you do decide to extend your visit by touring the museum, tickets are only £5 per adult, £4 per concession with children having free entry. We also offer an annual pass for £12, which can be sent out as an unusual gift. The knowledgeable volunteers will show you around, demonstrating our working exhibits and explaining how Halifax developed into the town it is today.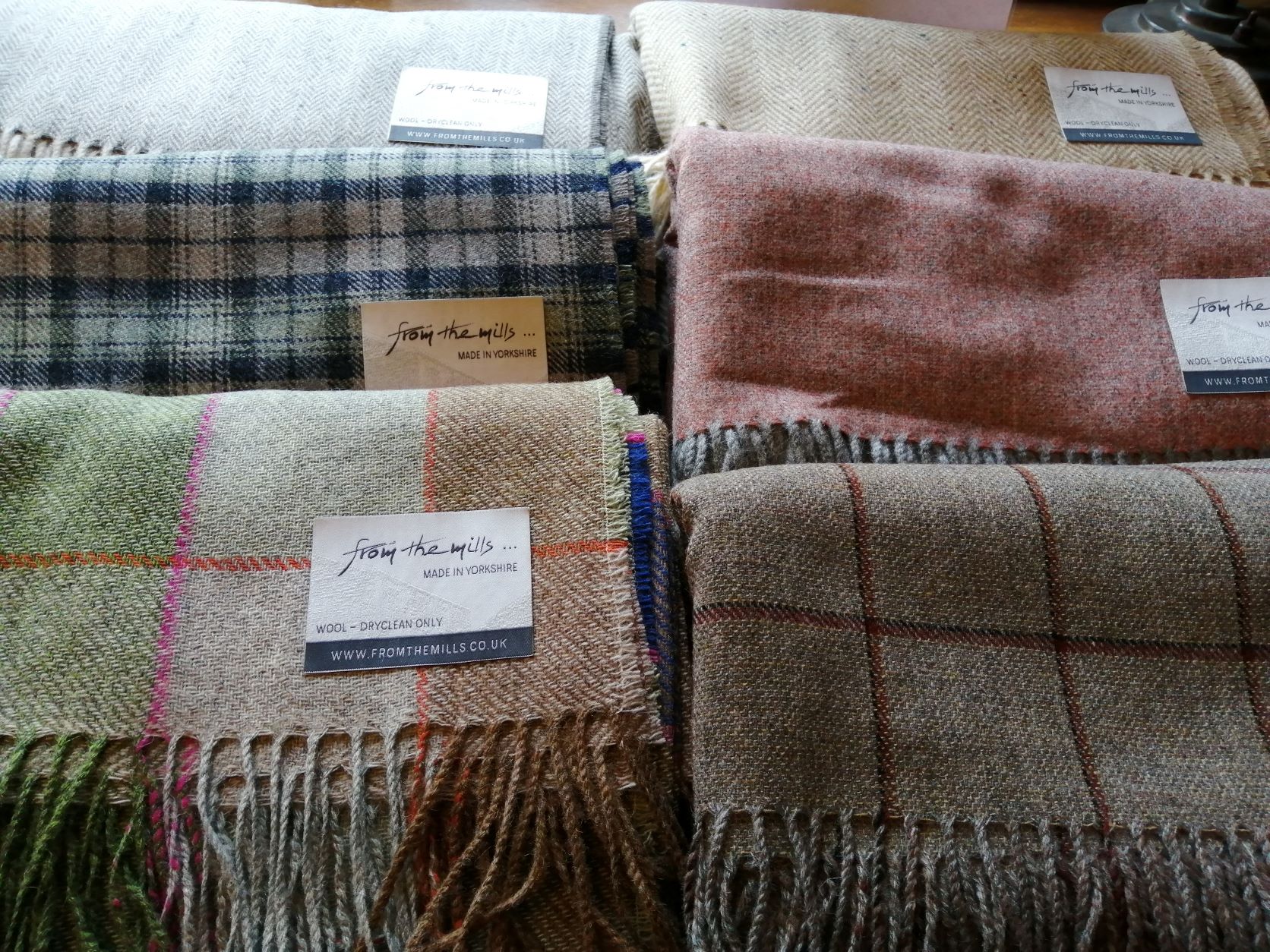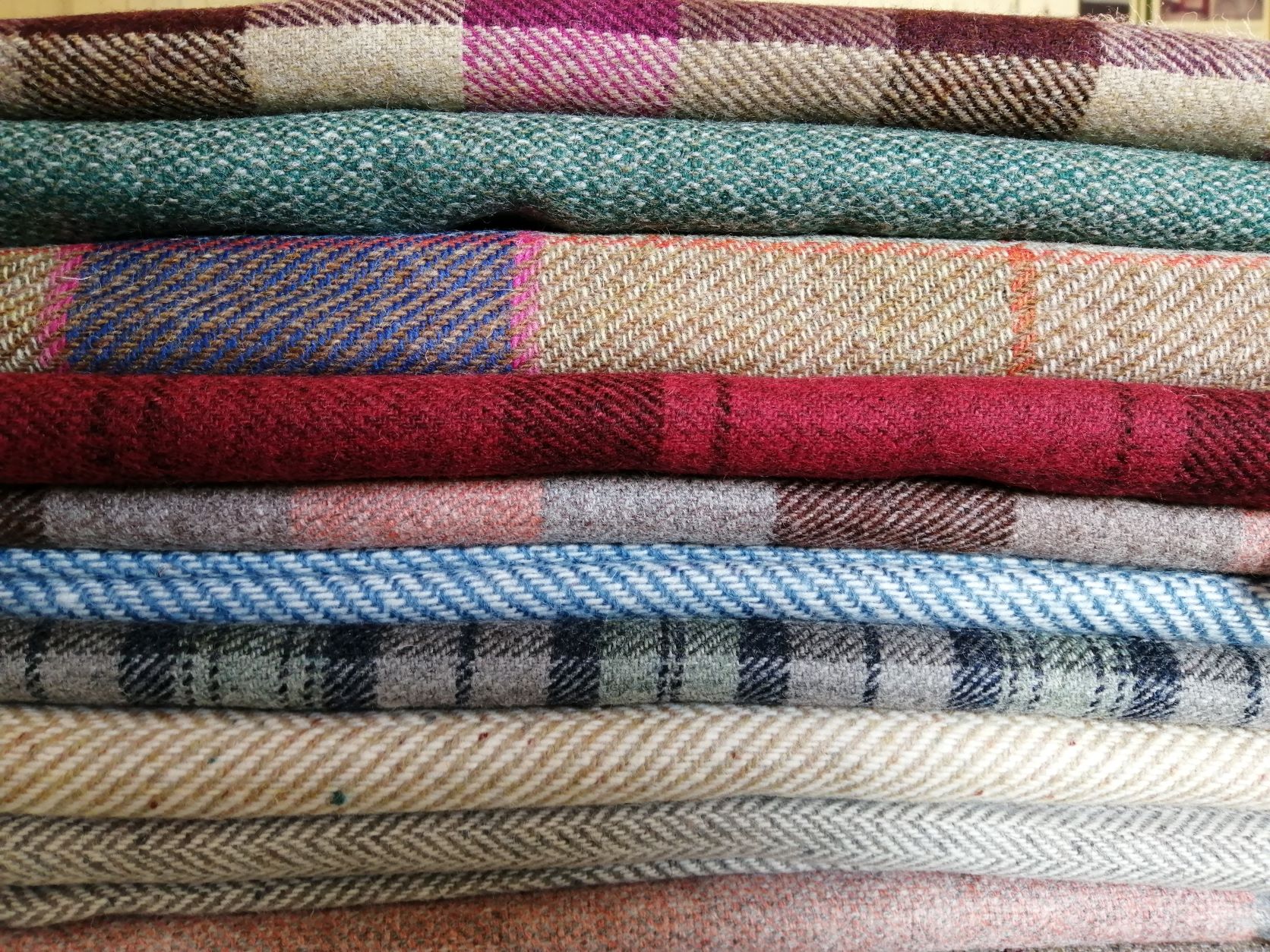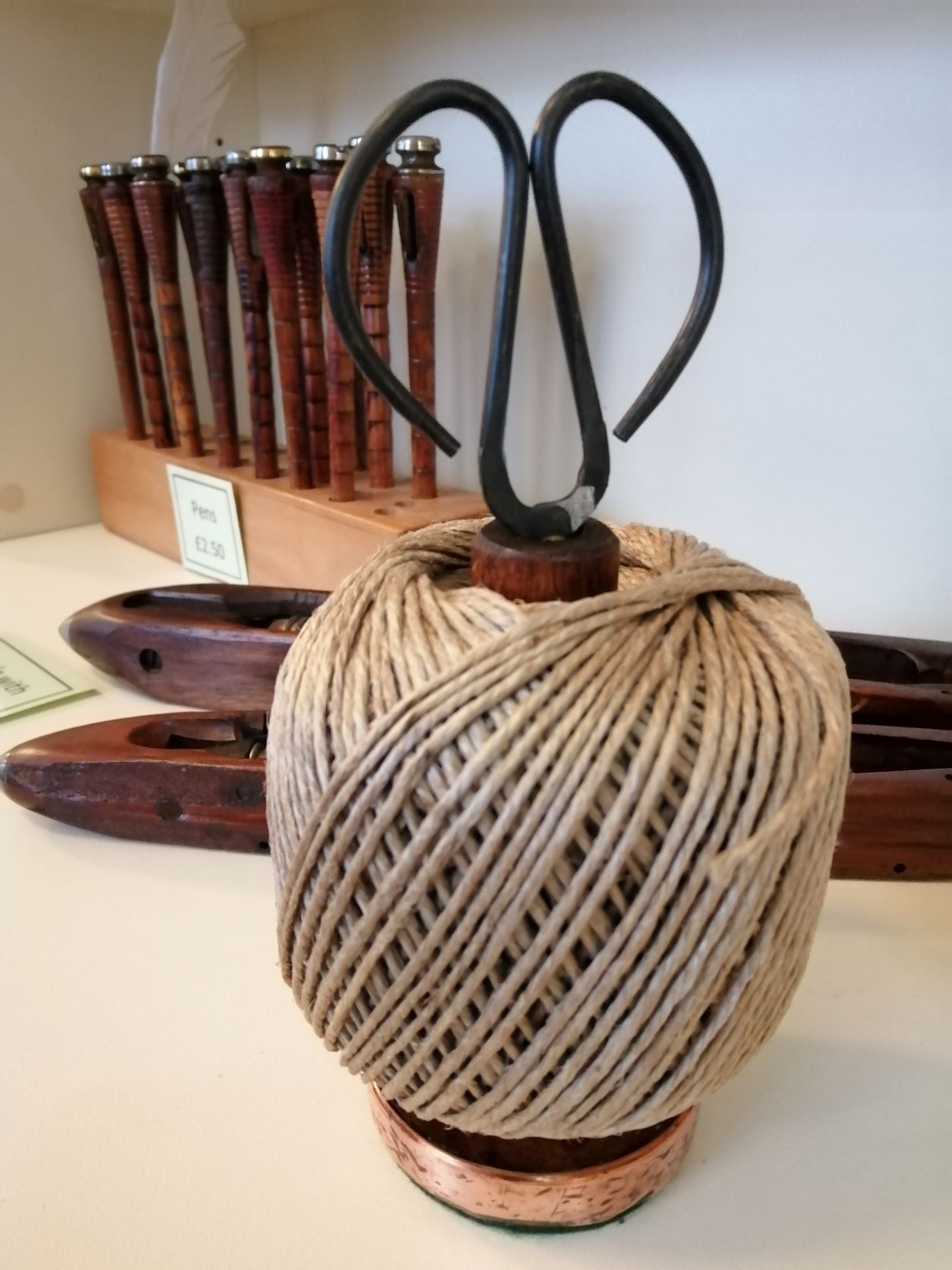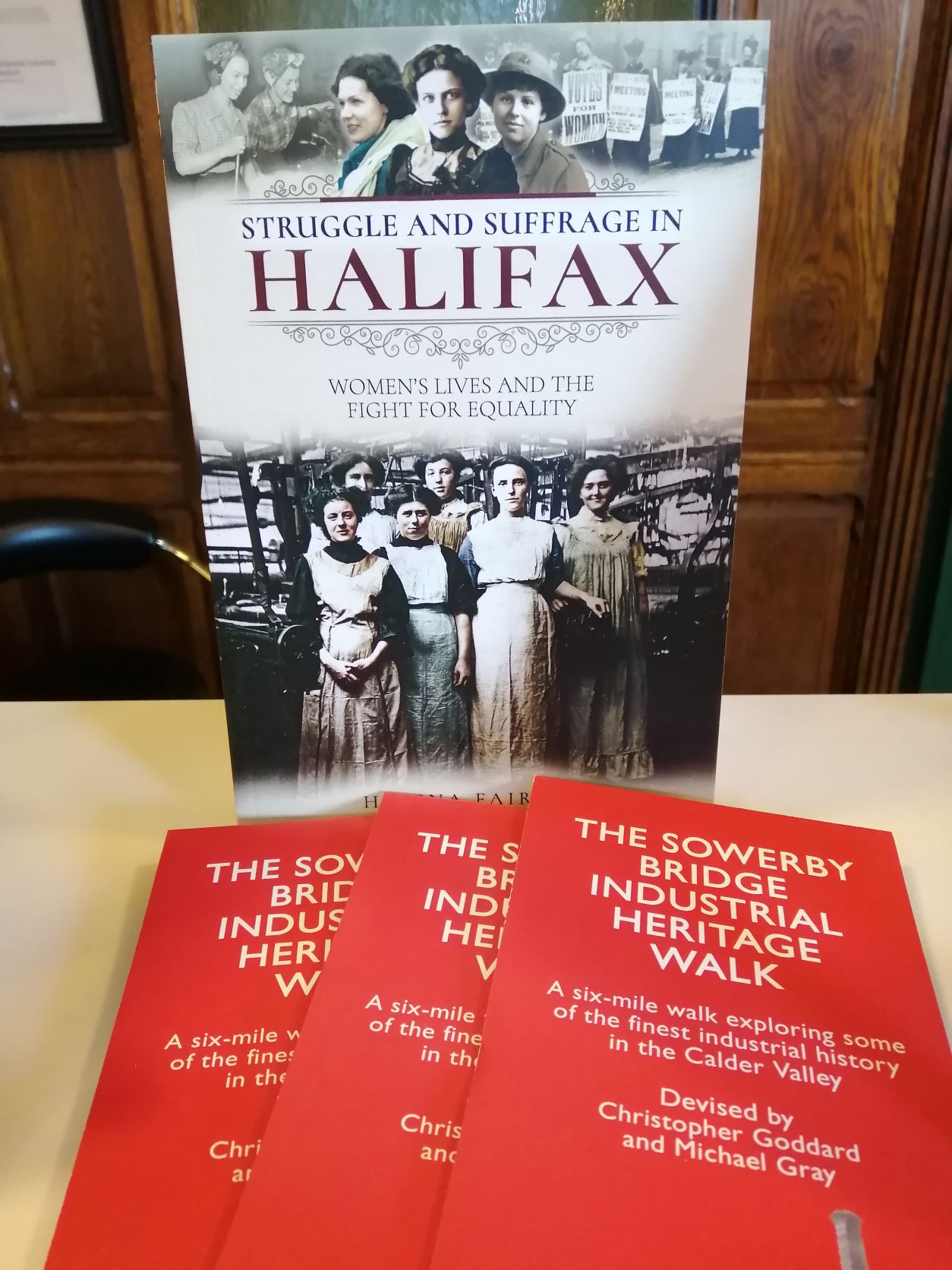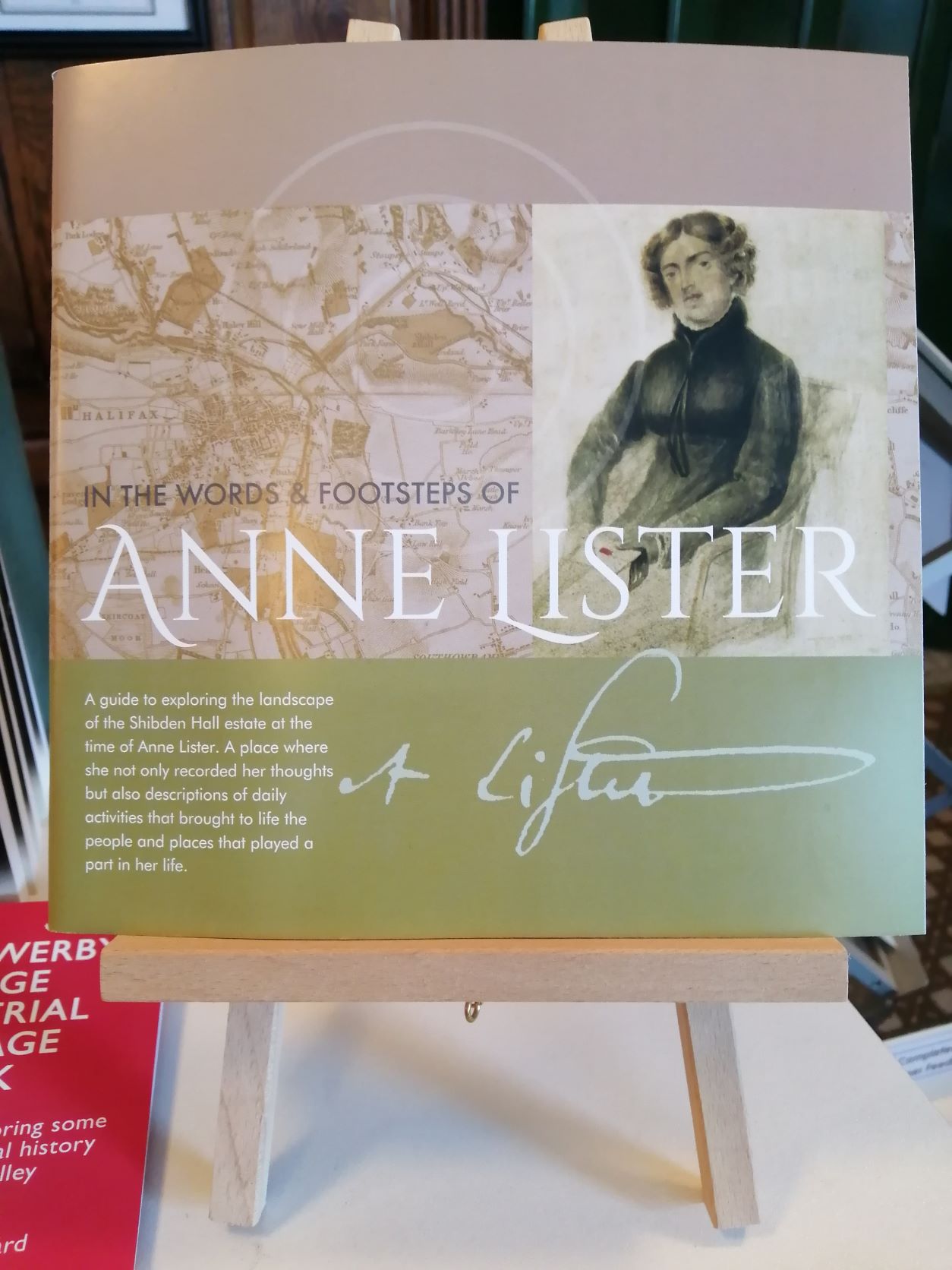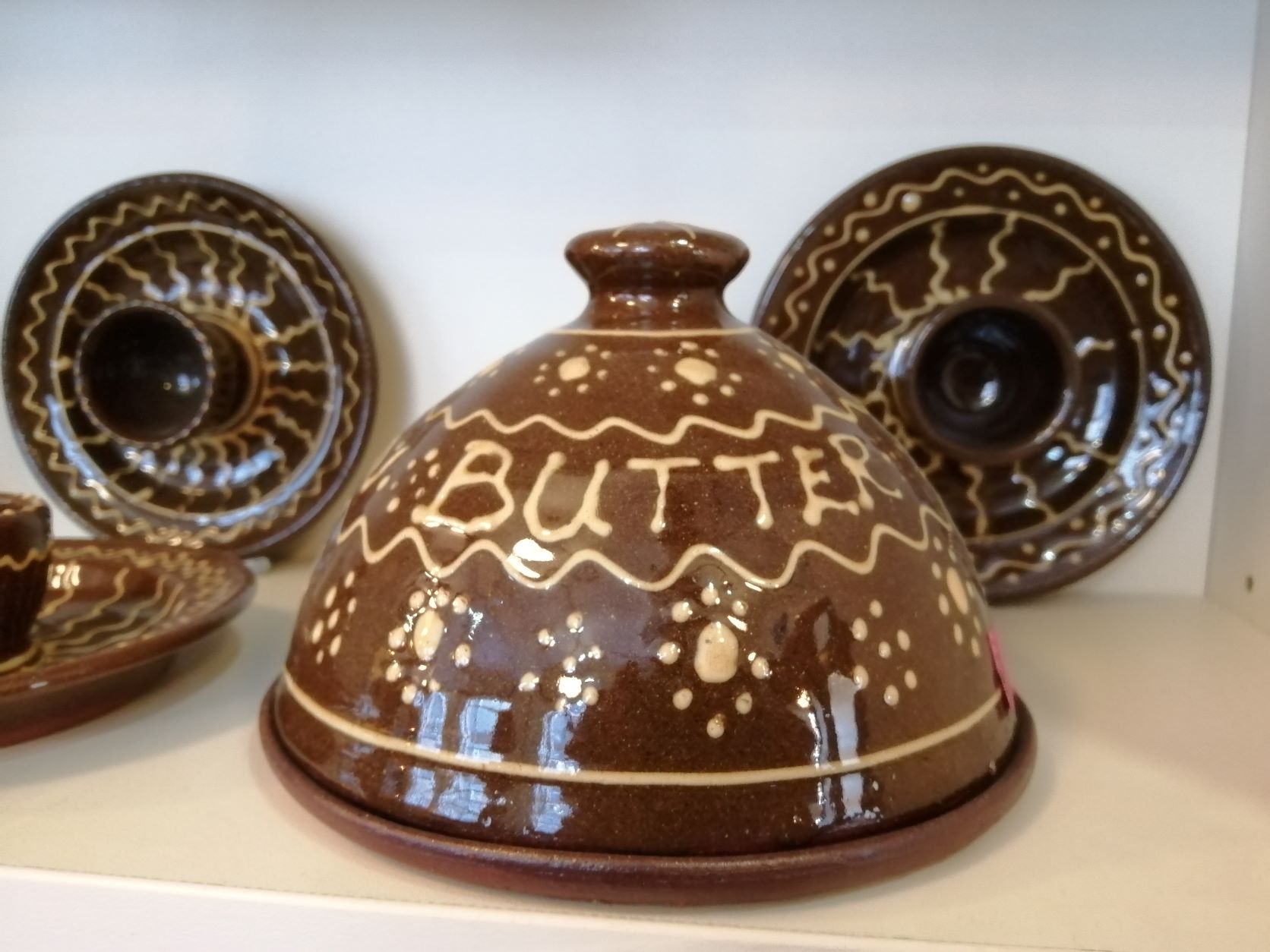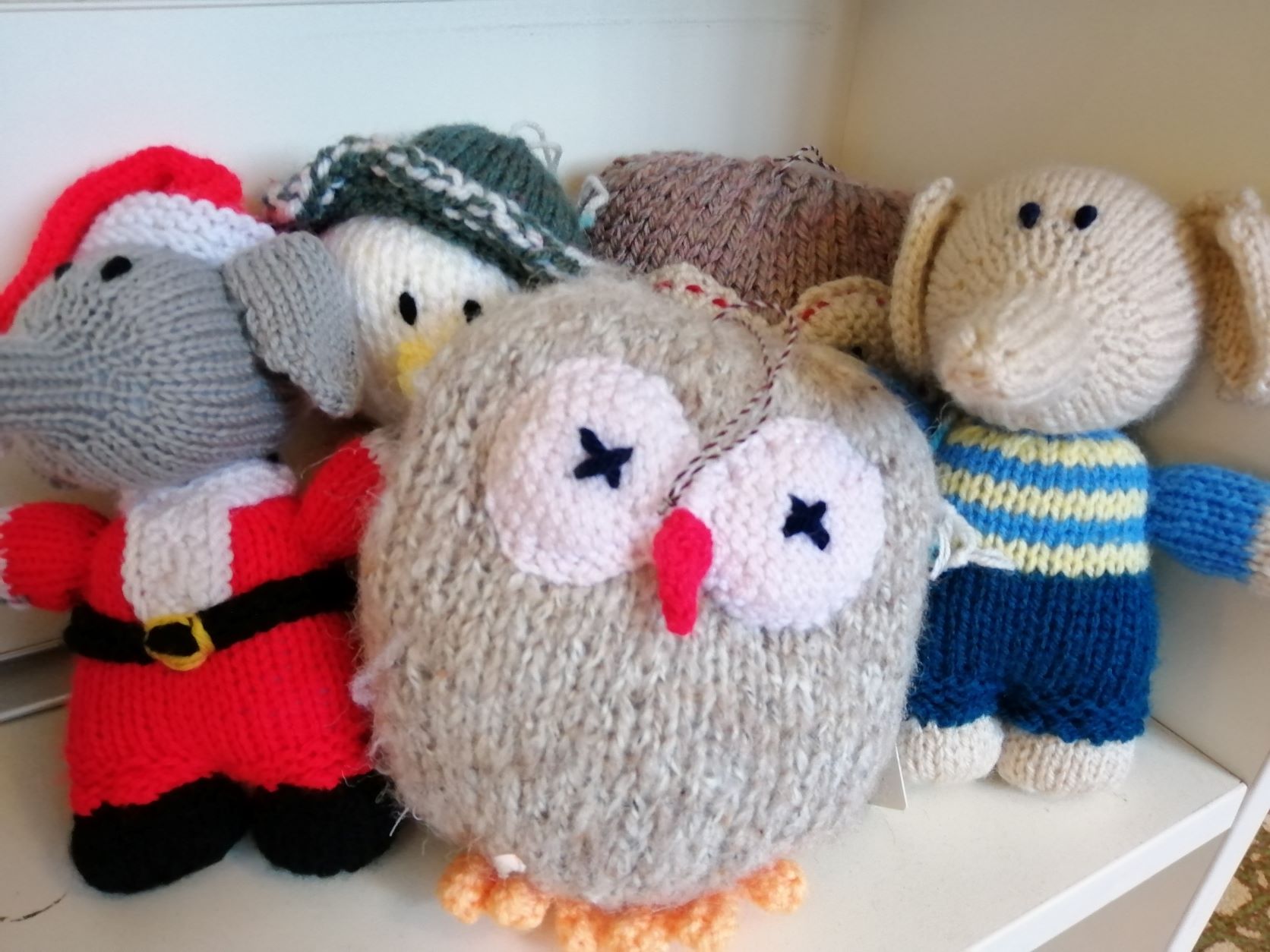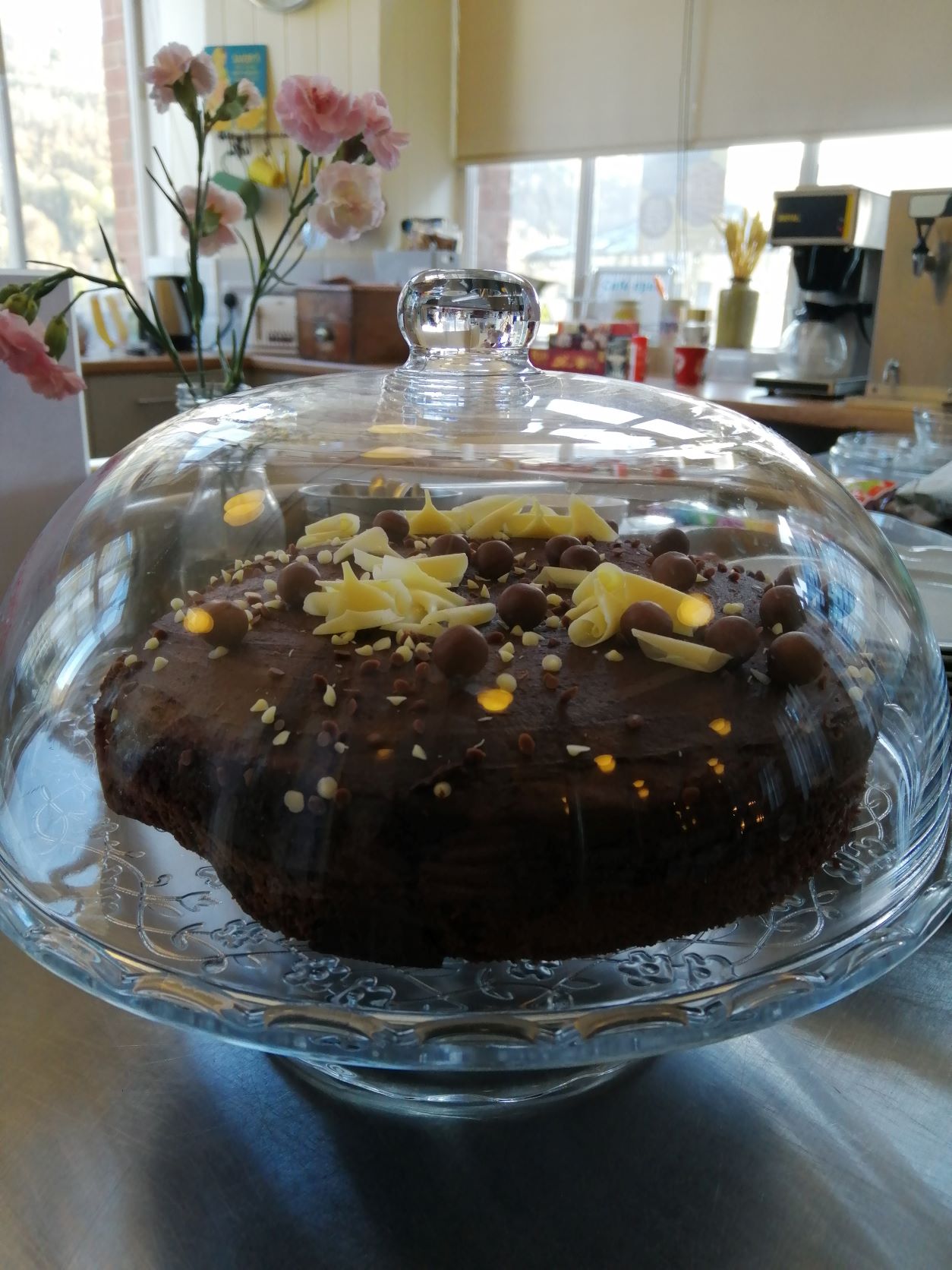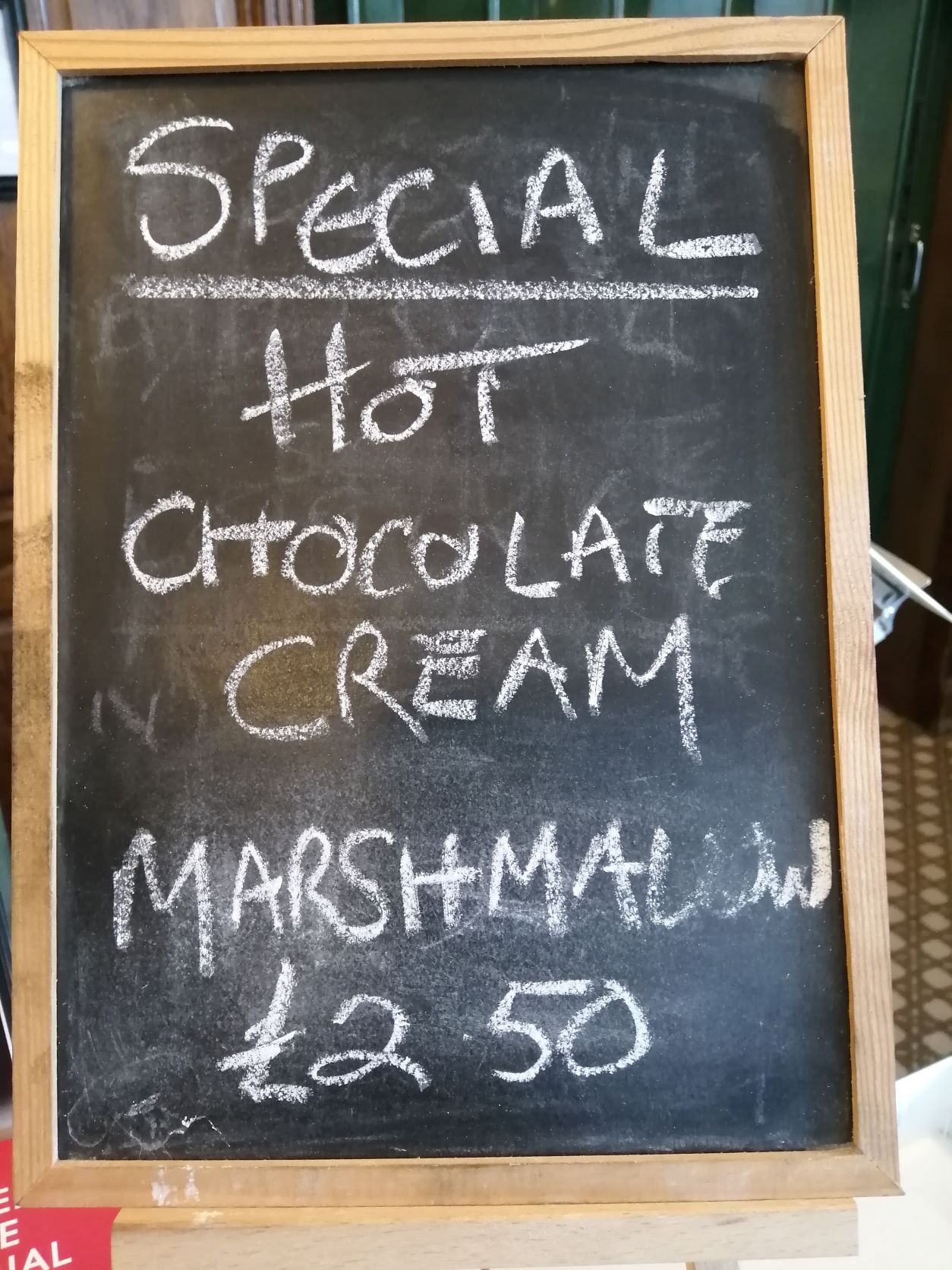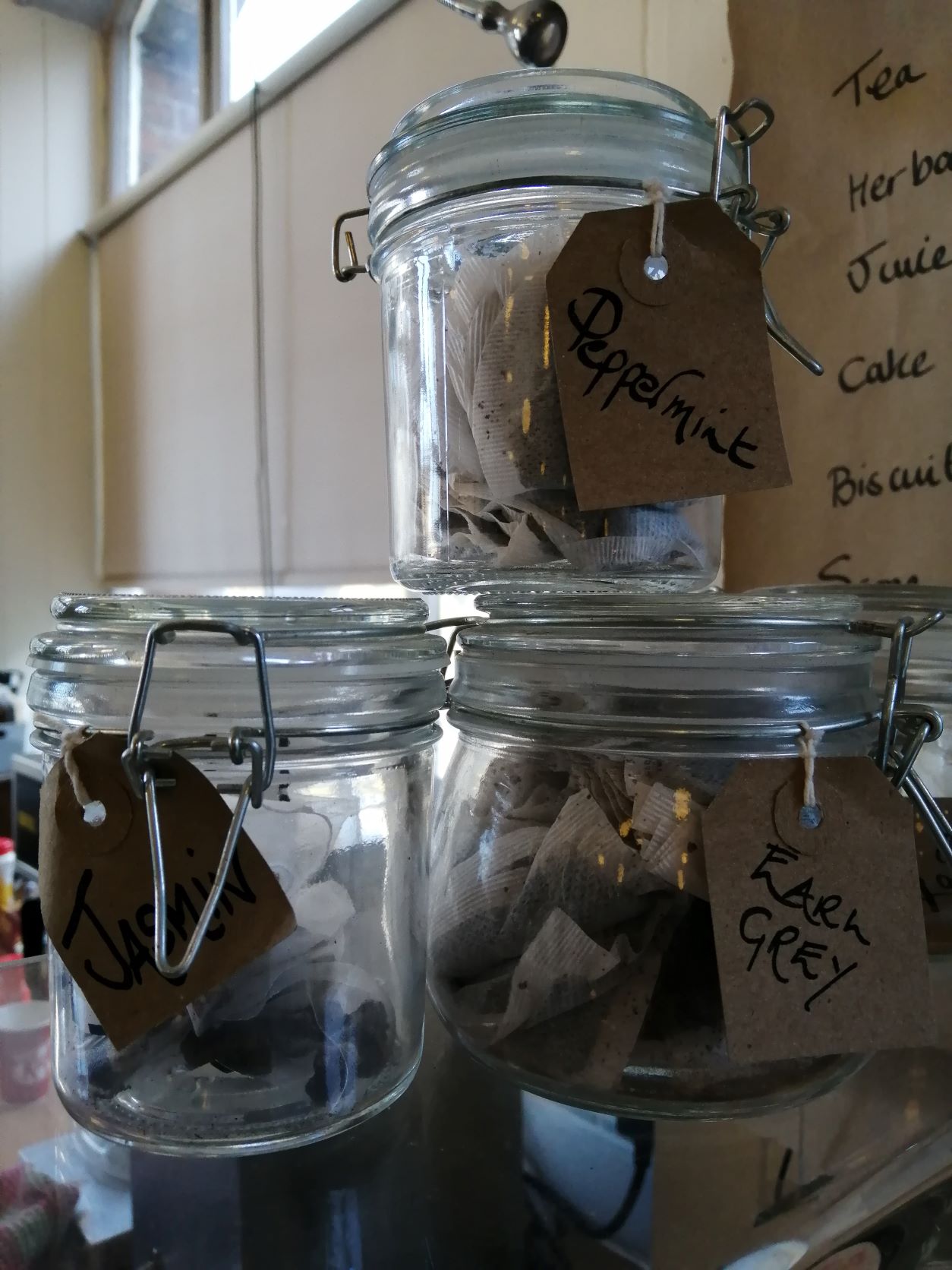 Armistice Day
If you are in Halifax, please come into Calderdale Industrial Museum to donate to the Royal British Legion and take a poppy. We currently have our war memorial on display for the upcoming Armistice Day on November 11th. The memorial was donated to the museum by W and RK Lee Ltd mill in Sowerby Bridge when the building was redeveloped.
We are open every Saturday 10am to 4pm, with last admissions at 3pm. We are also open on Thursdays in the school holidays.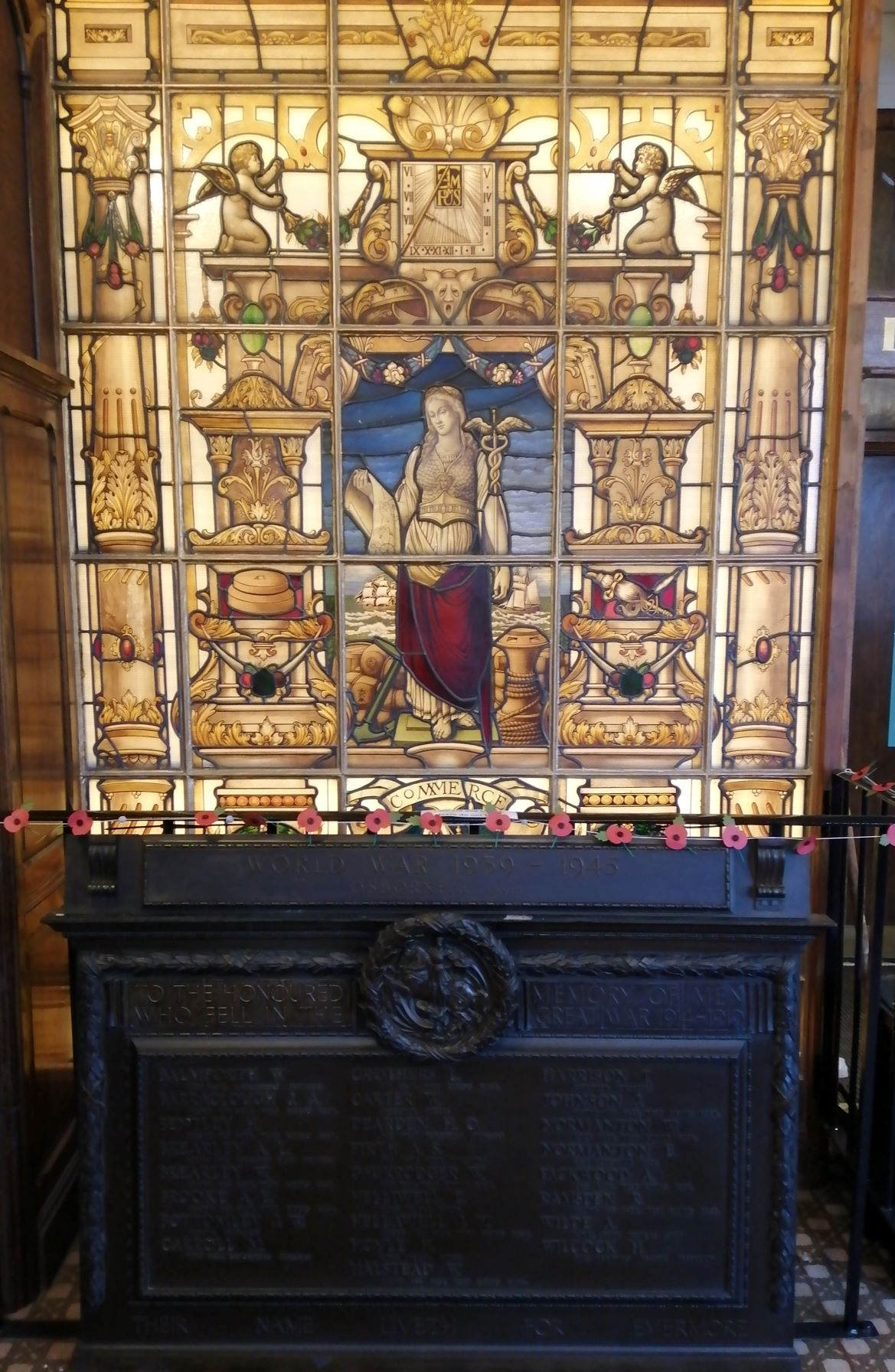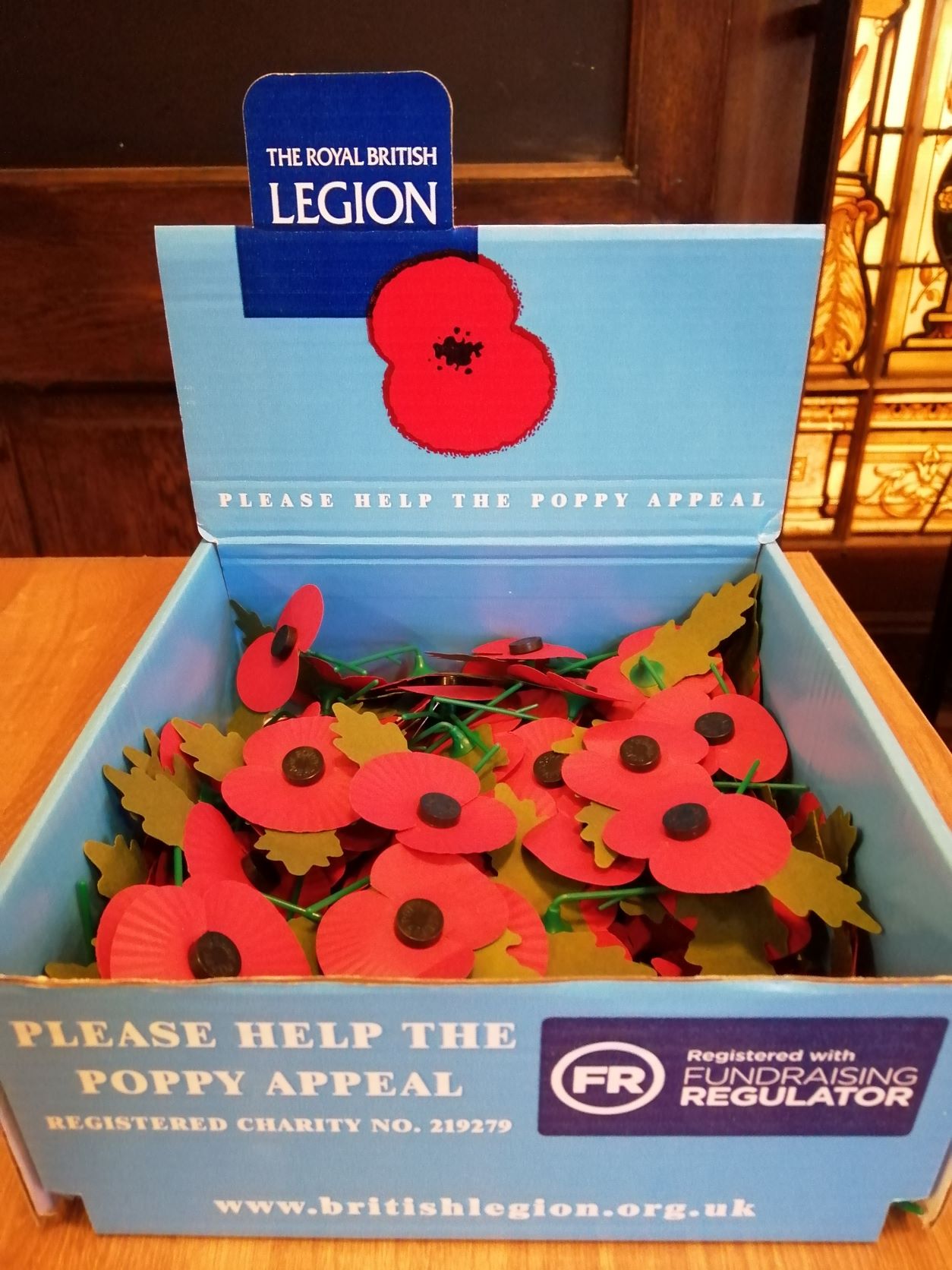 Calderdale Industrial Museum welcomes school visits back !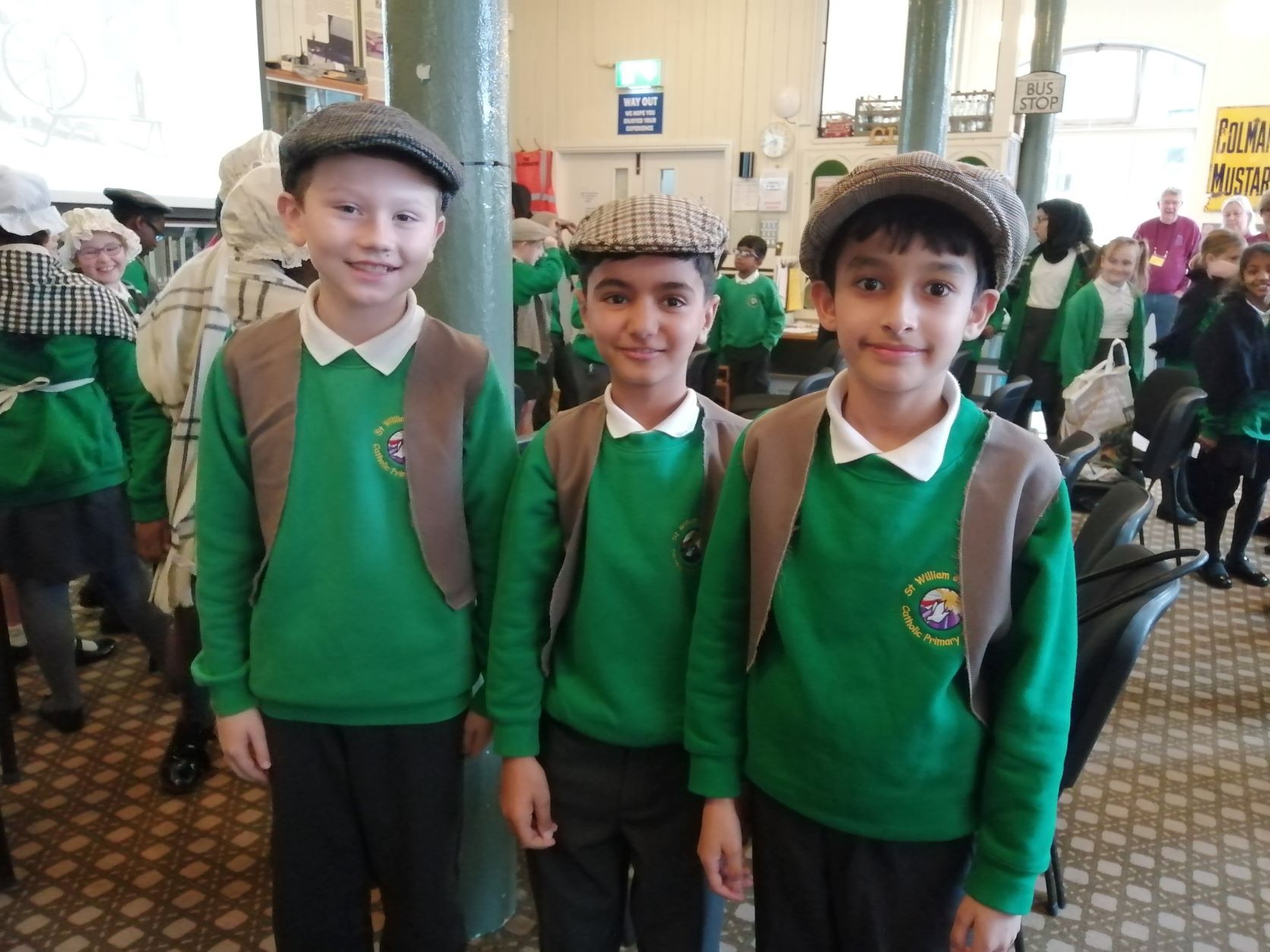 It was wonderful to welcome the lovely children from St William of York Primary School, Bolton to Calderdale Industrial Museum to restart our school visits program last week. It looked like all the children, their teachers and the volunteers at the museum had a fabulous time. Highlights were definitely the "doffing" competition and mine !
Don't forget that we are also open to the public every Saturday and Thursdays in the schools holidays, 10am to 4pm with the last admissions at 3pm.

Southowram company Avena is keeping the tradition of carpet manufacturing alive in Halifax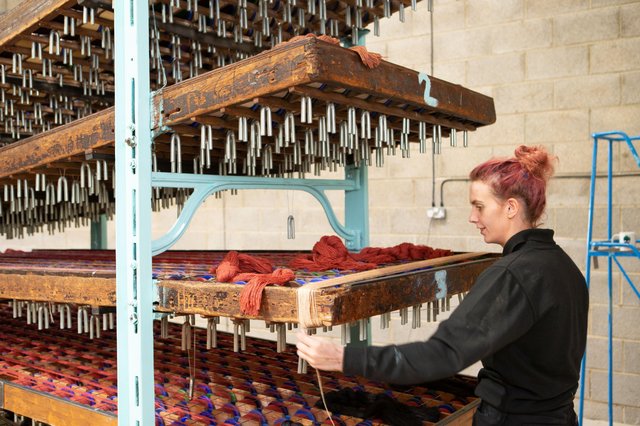 Avena Carpets has been featured recently in the Yorkshire Post Magazine and Halifax Courier with articles about their aim of restoring Halifax' reputation for producing the worlds finest narrow loom carpets.
There are only 3 narrow-loom carpet manufacturers in England. Avena are using looms which date back to the 1850's and originally belonged to John Crossley and Sons Carpets. Crossleys was the largest carpet manufacturer in the world in the 1860's employing over 5,000 workers at its factory in Dean Clough producing luxurious Wilton and Brussels carpets. The company ceased carpet production in 1975. A new company, Avena, bought six of the looms and continued to produce carpets at Denholme and then Bankfield Mill in Halifax. When the original directors of this company retired the company was acquired by a relative of John Crossley, and did continue to produce small amounts of carpet until last year when Richard Hughes acquired the assets of the company and relaunched Avena Carpets with the aim of producing the original high quality Crossley carpets again.
Five of the original looms have been moved to Southowram and the company now employs six full-time staff and two part-time staff, and is hoping to start an apprenticeship scheme and work with local charities to offer work experience.
The companies archive contains 5,000 designs dating back to the 1850's and has details of every order that the company wove. The volunteers here at Calderdale Industrial Museum are helping to catalogue these archives, and it is hope that they can become a valuable resource for designers and curators worldwide. Avena have also been advising Calderdale Industrial Museum on getting another one of our looms working again, and we hope to collaborate on exciting projects in the future.
If you would like to know more about weaving why not visit Calderdale Industrial Museum and see our moquette loom in operation and find out more about carpet manufacture in Halifax. We are open every Saturday 10am to 4pm (last entry 3pm) and also Thursdays in the school holidays.

Thankyou to the Halifax Courier for the above photographs.

New map of Sowerby Bridge launched
We are pleased to launch a new trail of the industrial heritage of Sowerby Bridge for sale in our shop. The trail has been created by local author Christopher Goddard in conjunction with Mike Gray, the Education Director at the museum. The beautifully hand-drawn map features a wealth of information about the history of the area that it covers, and is a great introduction to this often overlooked part of the Calder Valley. The walk is six miles long and starts at Sowerby bridge railway station. The map is available from Calderdale Industrial Museum shop for only £5.99.
Official Presentation of the Queen's Award for Voluntary Service
The Lord Lieutenant of West Yorkshire, Ed Anderson officially presented the Queen's Award for Voluntary Service to the volunteers of Calderdale Industrial Museum on Saturday 24th August 2021 in the presence of the Mayor of Calderdale. The Lord Lieutenant stated that
"It was a

pleasure to present the Queens's Award to Calderdale Industrial Museum.

It was fitting recognition for all the many years' dedicated work of volunteers promoting the rich industrial heritage of the area." 
The presentation of the award was followed by a celebration of the museum and it's volunteers. If you would like to join the volunteers at the museum please email manager@calderdaleindustrial.co.uk or phone us on 01422 384721.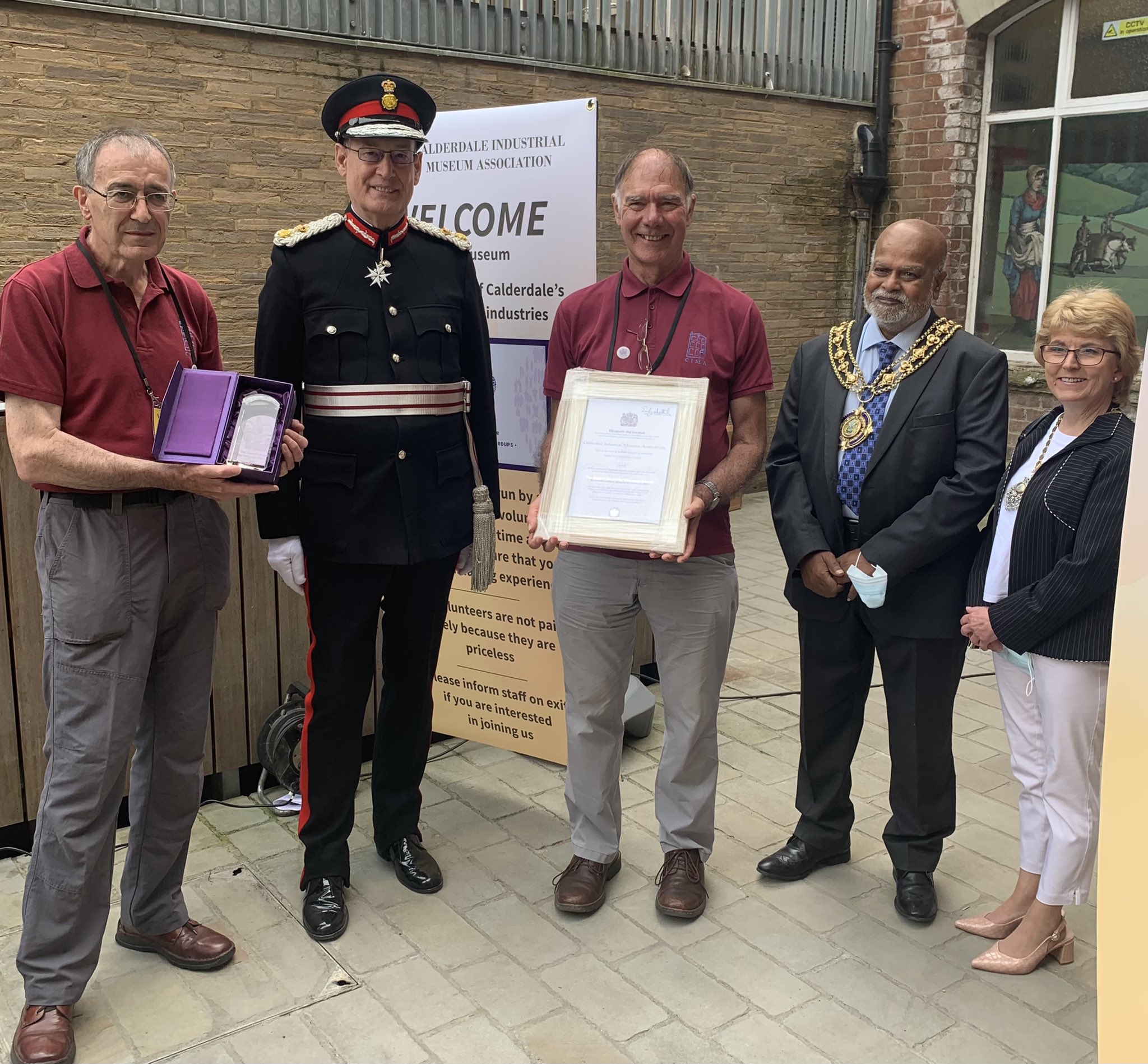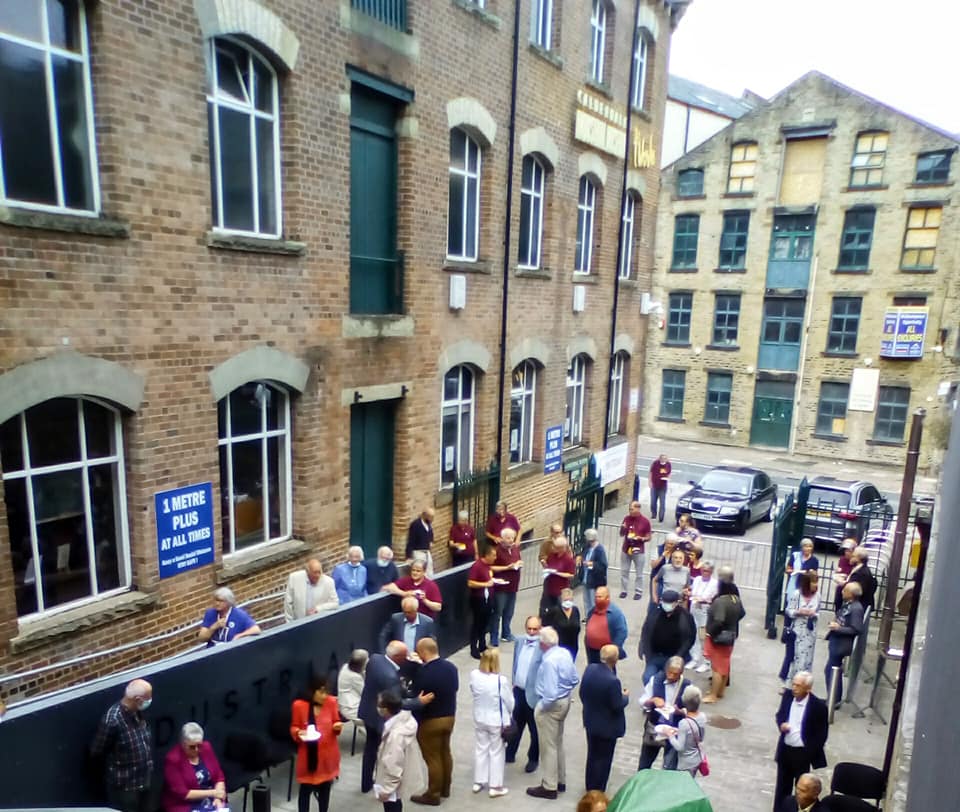 Yorkshire Hat Throwing Championships
Volunteers from Calderdale Industrial Museum had great fun helping to run the "Yorkshire Hat Throwing Championships" in the Piece Hall on August 1st 2021 to celebrate Yorkshire Day.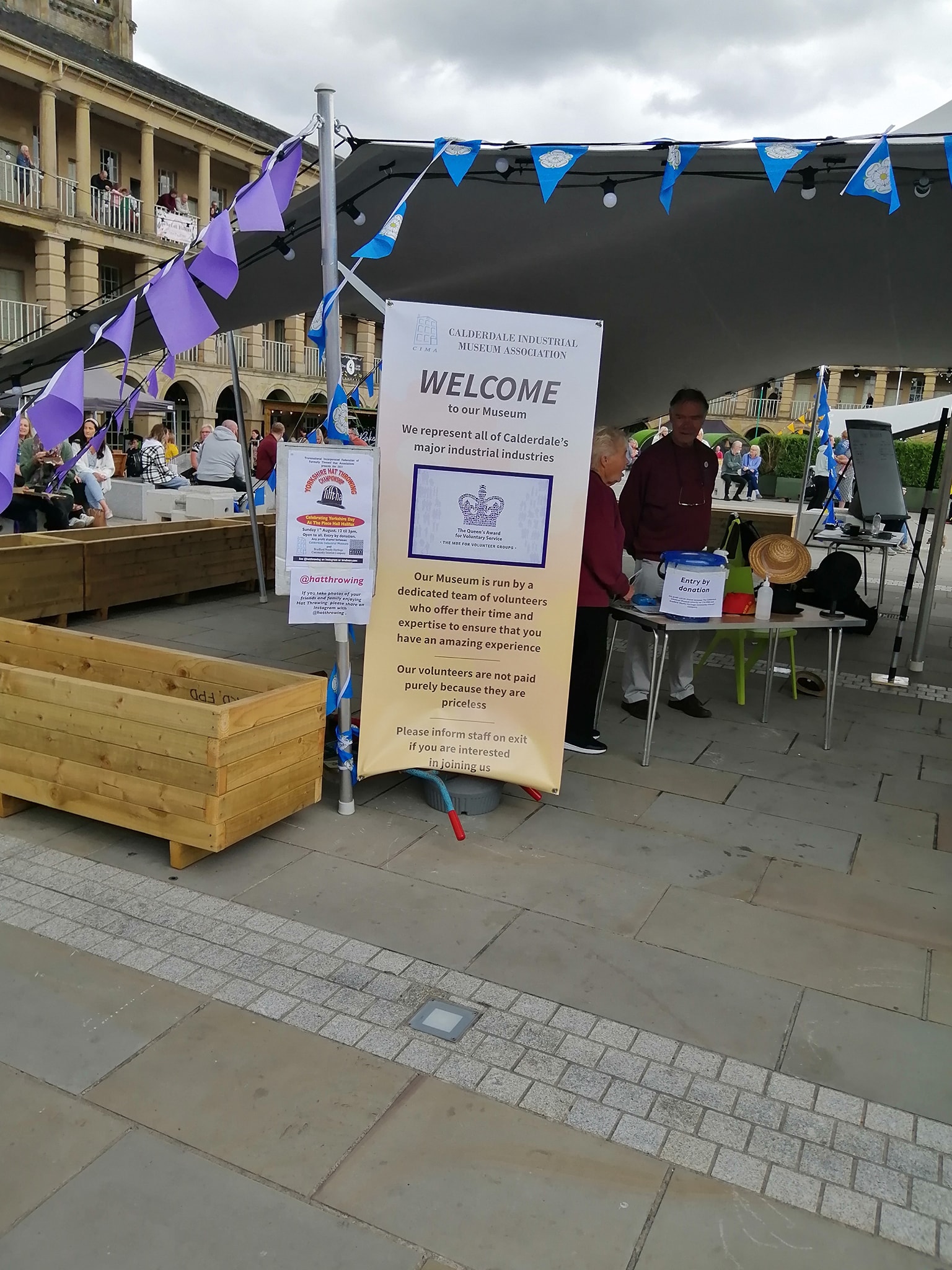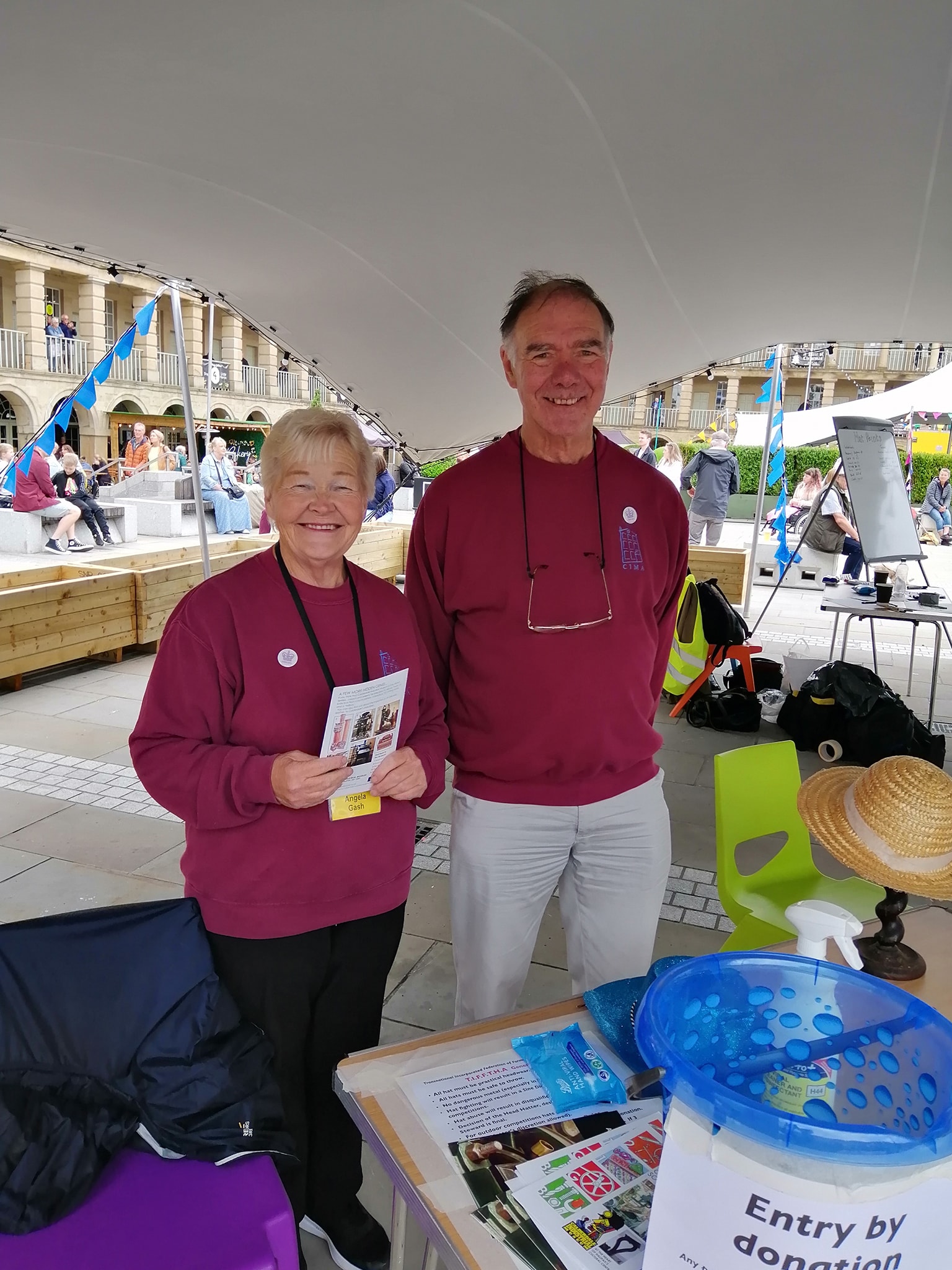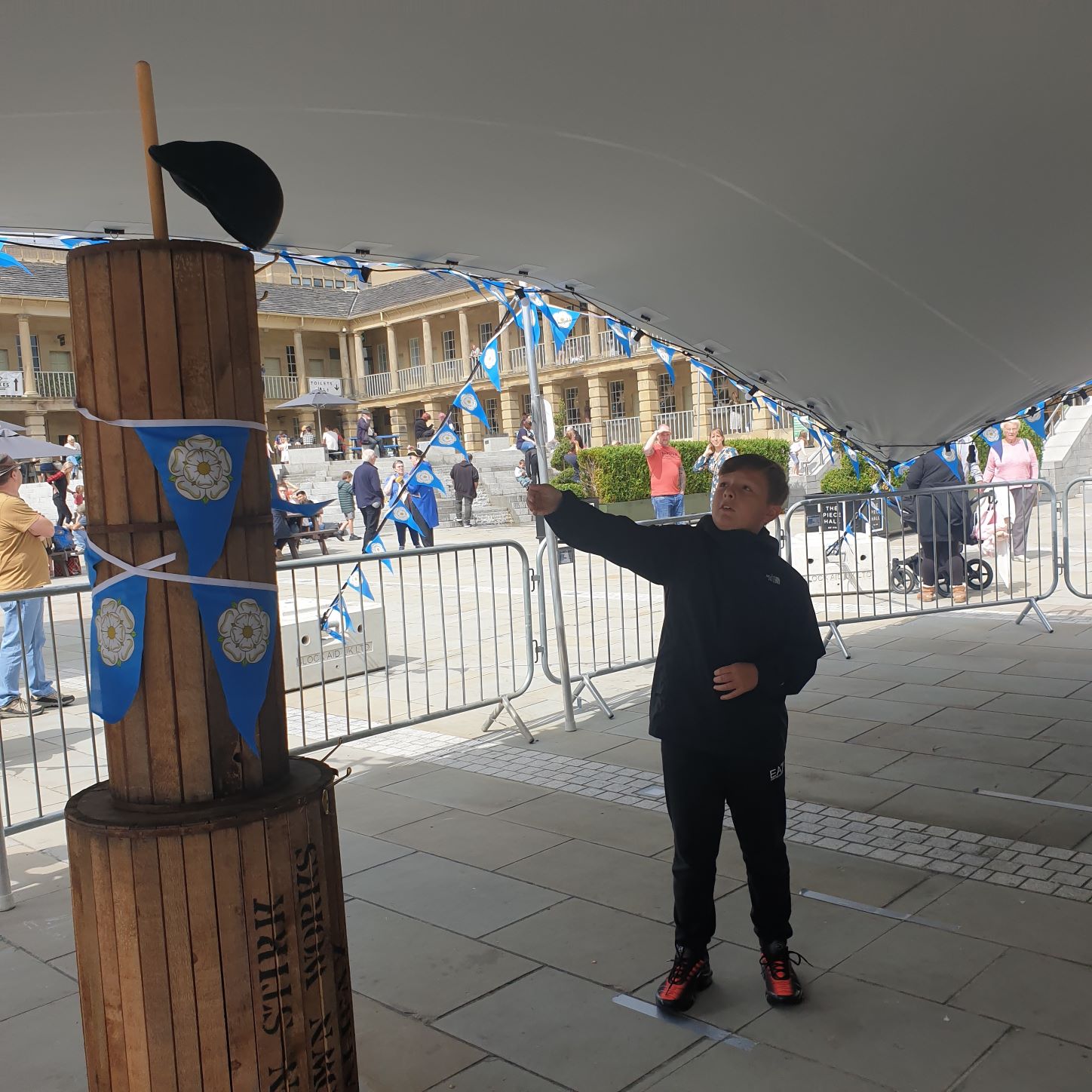 Calderdale Industrial Museum receives Royal recognition
The blood, sweat and tears put into rescuing one of Yorkshire's premier attractions has earned Calderdale Industrial Museum Association the Queen's Award for Voluntary Service
The museum beside Halifax's iconic Piece Hall, was boarded-up in 2000 and reopened officially in 2017, thanks to the strenuous efforts of local volunteers.
They now have an additional cause for celebration, the association having agreed to lease the building from Calderdale Council until at least 2027.
"This national award and local agreement recognises the hard work put in by our members and supporters over many years, for which we are immensely grateful," said association chairman, Tim Kirker.
"Apart from the security which the lease provides, it will open up more opportunities for fund raising," he said.
The museum aims to record, preserve and display the story of how Calderdale has developed from the industry of its past.
The museum wishes to thank Roger Harvey, Chairman of Harvey's of Halifax, for his continuing support and nomination for the award.
It had been on course to attract more than 10,000 visitors annually but during the COVID lockdown volunteers have continued to beaver away behind the scenes.
Calderdale Industrial Museum Association was short-listed for the Museum and Heritage Volunteer Team of 2019 and named a 2020 Traveller's Choice Winner by Tripadviser, having maintained for 18 months its position as the best rated attraction in Halifax.
It is now among Tripadviser's top 10% of attractions worldwide!
According to the Queen's Award Team: "The work your group does for the community was very much admired by the independent National Assessment Committee, chaired by Sir Martyn Lewis CBE. The Award in 2021 represents a tremendous achievement for your organisation and we hope that everyone involved, and particularly your volunteers, will feel immensely proud.
Calderdale Council leader, Cllr Tim Swift said the energy, commitment and enthusiasm of the volunteers had been exemplary. "They have worked tirelessly to raise funds, secure support and donations in both cash and direct help, and promote the case for the museum and its wider importance to Calderdale as a visitor attraction and as an important record of the area's industrial heritage," he said.
"We handed over the running of the museum to Calderdale Industrial Museum Association in 2016 and we continue to provide support to assist its plans and ambitions, and the museum's operation. The industrial museum, along with other local cultural organisations, will play a major role in Calderdale's revitalisation as we recover from the COVID-19 pandemic."
Another of the museum's key backers, Christine Harris, Deputy Lieutenant West Yorkshire said "The museum is led by volunteers with an amazing range of skills who have engaged widely at community level across all age groups. Their stoic determination to rise above adversity is phenomenal complimented by passion, enthusiasm and a determination to succeed."
The award will be presented at a date to be confirmed.
The museum in Square Road and the association which runs it provides a safe haven for many retired and often lonely or vulnerable people. Social services and charities refer clients including asylum seekers to help them integrate.
It includes a cafe and a meeting room where lectures are held on industrial history. A growing number of education modules have been tailored to the National Curriculum.
Sophie Shaw, science leader at Woodhouse Primary School, said: "We feel lucky to have such a fantastic museum in our area. We have been able to use our visits to inspire children, educate them and develop their 'culture capital.' The museum has since offered us the use of various resources and discussed the idea of volunteers visiting school to hold workshops such as science experiments."
Among the machines and artefacts spread over four floors in the museum are some of the only surviving examples in the country
Bernard Wadsworth has been a volunteer at the museum since he attended an open day in 2013. He can now be seen repairing and restoring machinery on two or three days every week.
The former Halifax hosiery worker said he had always been interested in machinery and had become increasingly involved with other museum activities.
"I want visitors to see how these things made Halifax into a wealthy town where, in my life time, you could leave a job one day and start a new one the next," he said.
Roger Swift and his wife, Pauline, have been actively involved for six years.
The former print engineer has family links to the museum – his father, Raymond, built some of the brick bases beneath many of the heavy machines and Roger has been helping to restore the waterwheel and fulling stocks, as well as doing a variety of other jobs.
"Halifax has such a wealth of industrial industry and I want the next generation to understand how that came about. The friendship and camaraderie here is very important."
Derek Bird, of Keighley, spends a full day at the museum every week. He brings with him the skills he picked-up during a life time making machinery for the worsted industry.
He has produced plans for the new pre-industrial museum area which will show how raw wool is turned into worsted cloth and other staple goods.
"I like getting my hands on big iron machines and here at the museum you meet some very interesting people," he said.
While spanners and hammers are important, there are many more jobs on reception, in the museum cafe, guiding visitors, setting up displays, painting and cleaning etc for which more volunteers are essential.
The museum boasts more than 200 members of which 130 are registered volunteers. They include accountants, textile operators, nurses, consultants, teachers, librarians, plumbers, electricians, directors, printers, H&S and insurance workers.
Among other things, the museum proudly records the history of the Mackintosh toffee factory, Percy Shaw's reflecting road studs, Crossley Carpets, the Shibden Valley coal mines, Butlers, Stirk and Asquith machine tools and other world-beating engineering firms as well as the former Halifax Building Society.
Brief History of the museum
1985 Calderdale Council opened the museum.
1987 Voted Best Museum of Industrial and Social History in UK
2000 Museum mothballed. Roof and burst pipes repaired.
2011 Calderdale Industrial Museum Association inaugural meeting.
2012 Volunteers start work and hold First Open Day.
2015 CIMA receives museum keys.
2017 Official opening.
2019 Museum gains Arts Council Accreditation.
For more about the Queens Award, please follow the links below.
Latest museum improvements 
Whilst the museum was closed to the public, the volunteers have been very busy improving the displays and exhibits. The vertical steam engine was moved from the top floor of the museum into it's new home in the Power Gallery. All went well, but fingers were definitely kept crossed !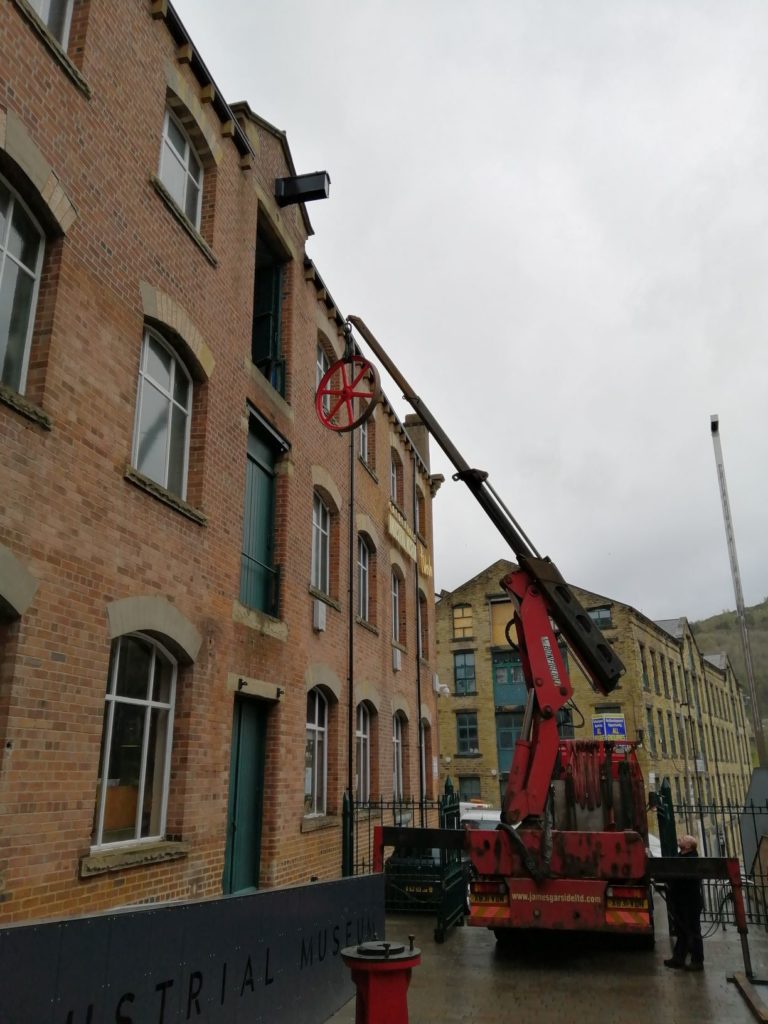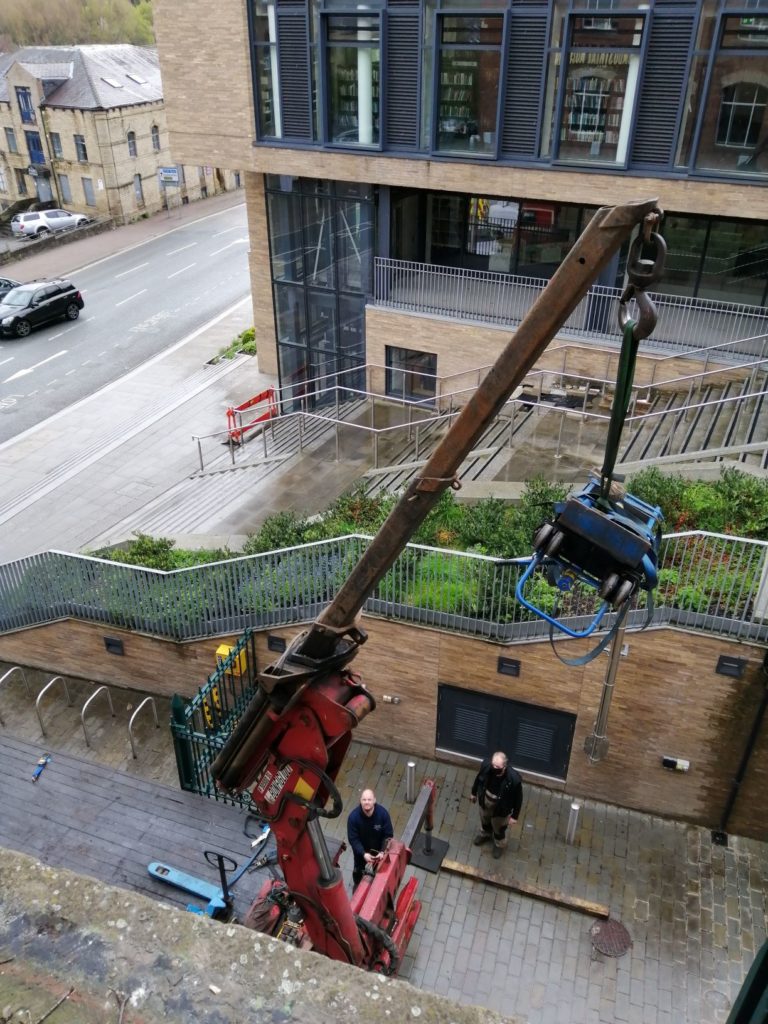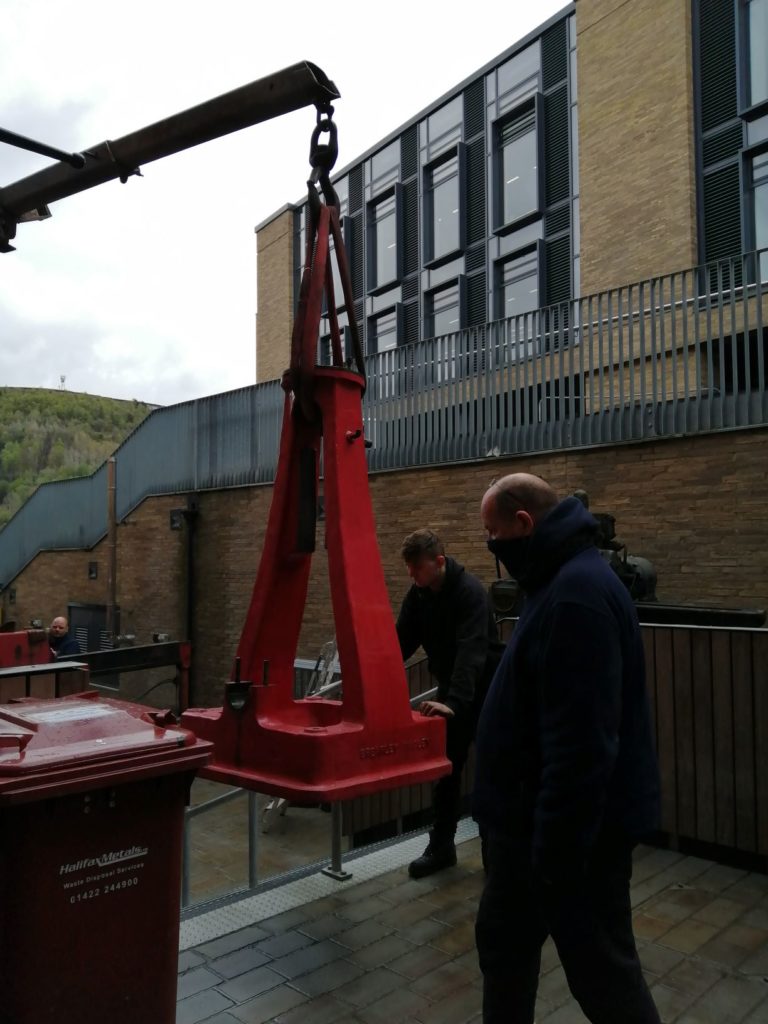 We have also had a drystone wall built for our Quarry Display in the basement. Many thanks to Christopher Lumb, Robert Lumb, Thomas Lumb from Chris Lumb Walling for donating their time, expertise and materials. New glass doors have also been installed in the adjacent Ceramics Display.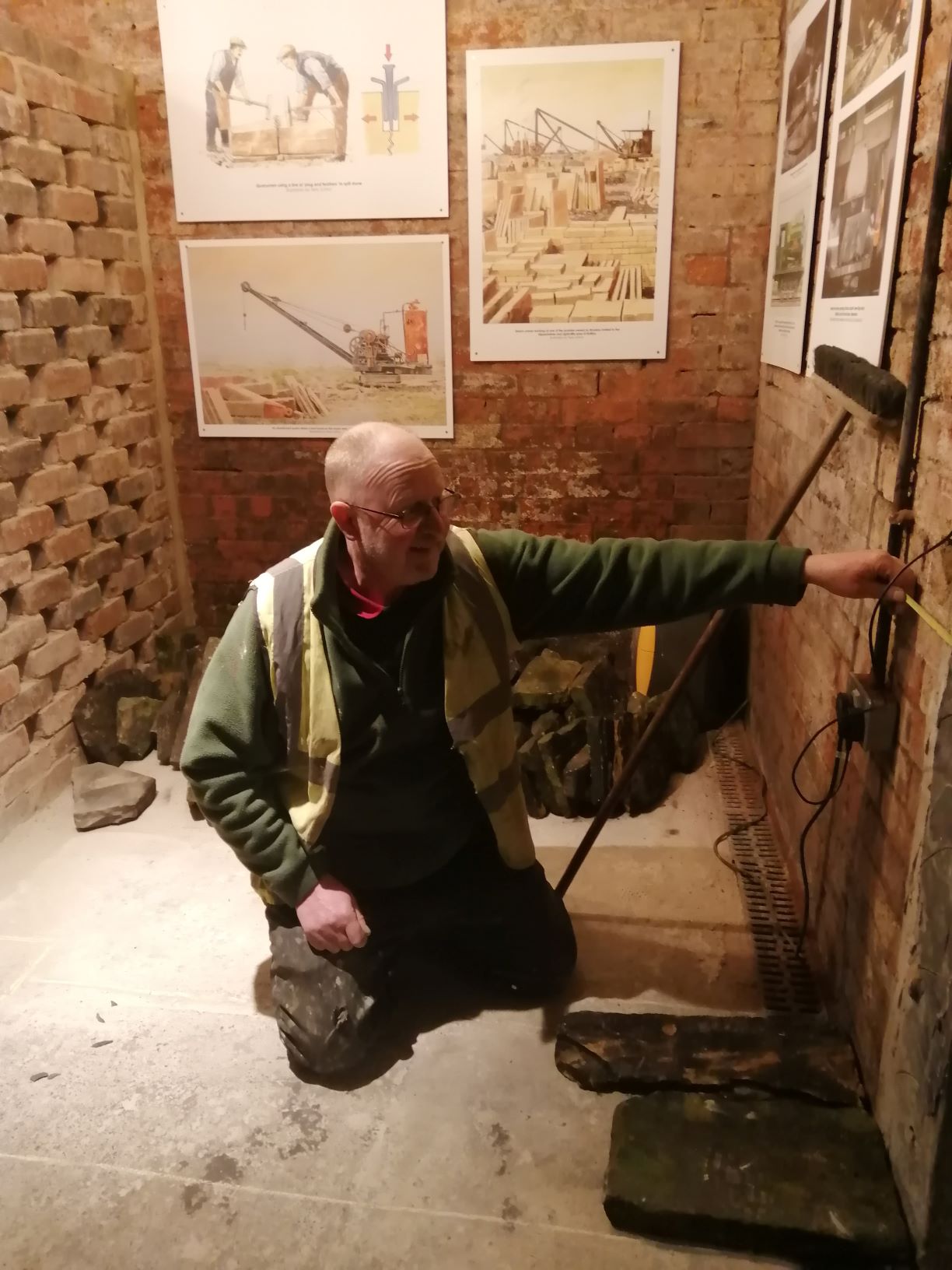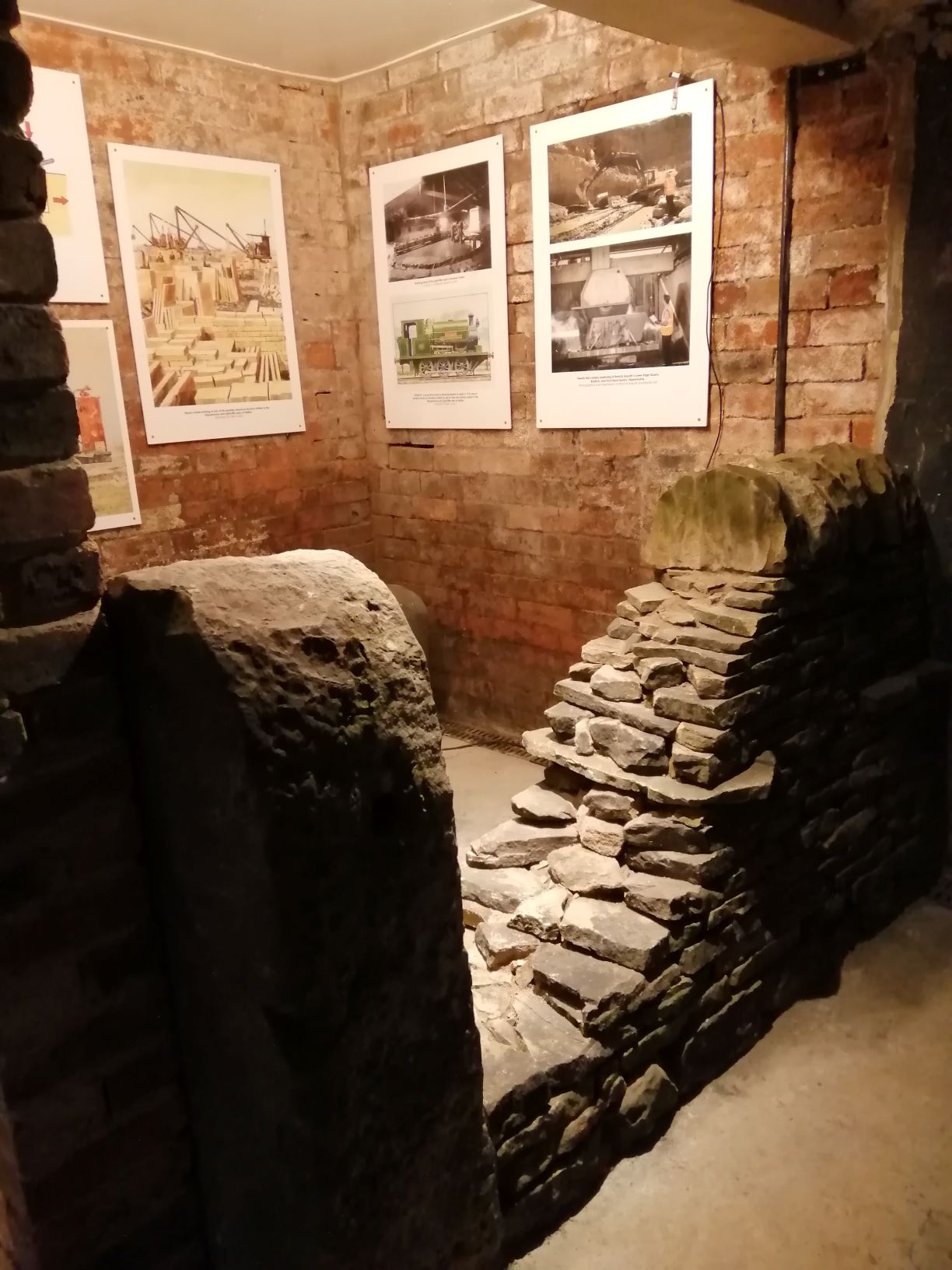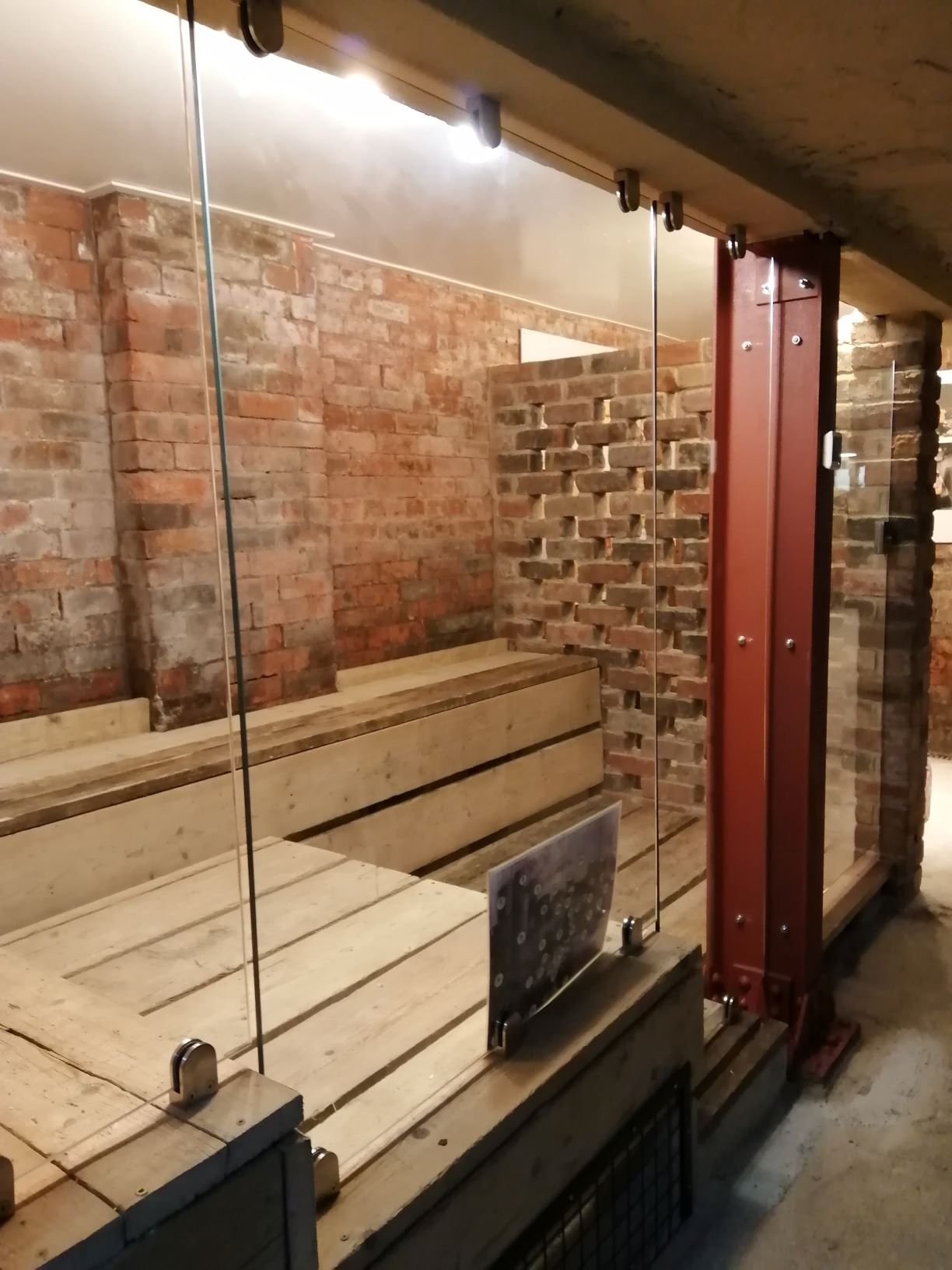 As usual the volunteers have been busy cleaning the whole museum, ready to welcome everyone back !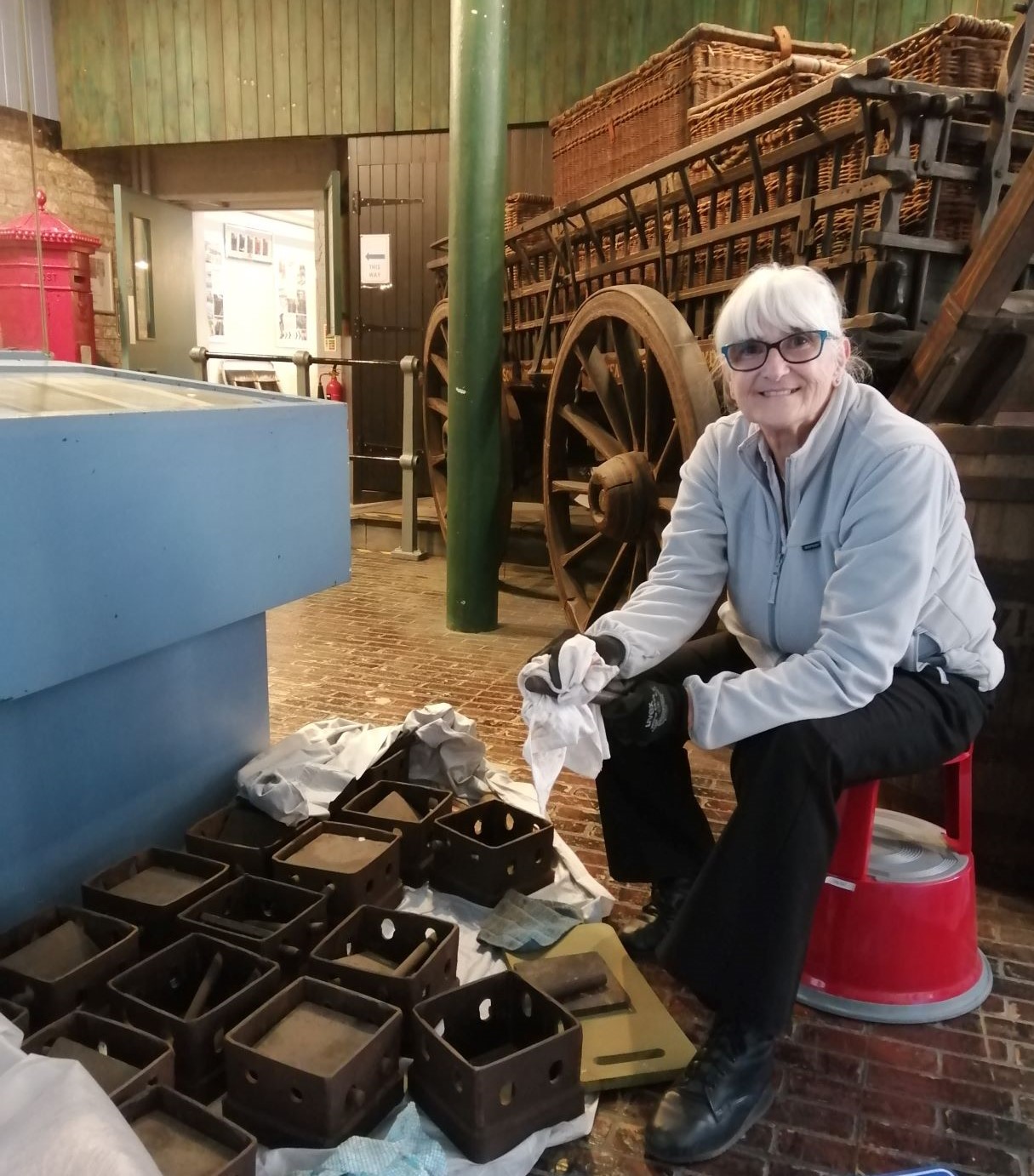 Please follow us on facebook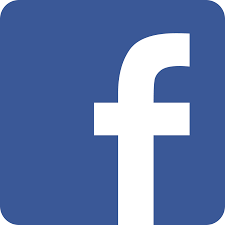 and twitter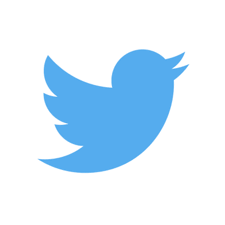 for the latest updates.
#mylocalmuseum campaign
Calderdale Industrial Museum has joined the
#MyLocalMuseum
national campaign to help to keep museums connected with their visitors during lockdown . There will a new theme every Tuesday, with today's theme
"Creative People."
#mylocalmuseum campaign theme "Creative People"
We have chosen to focus on the Halifax writer Phyllis Bentley. "Two strong passions have always ruled my life: The first is literature; the second is the West Riding."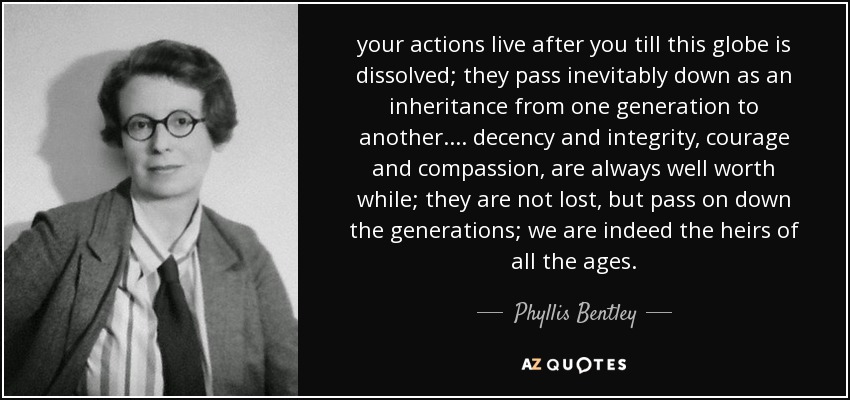 Phyllis Bentley was born on the 19th November 1894. She was the youngest child of Mr J E Bentley, who was a mill owner. She spent most of her life at Heath Villas, Free School Lane, Halifax. Phyllis was educated at Halifax High School for Girls and Cheltenham Ladies College. while there she undertook an external degree from London University. A munitions worker in London during the First World War. Phyllis returned to her native Halifax where she taught English and Latin at Heath Grammar School. She also did cataloguing work for the Halifax Literary and Philosophical Society.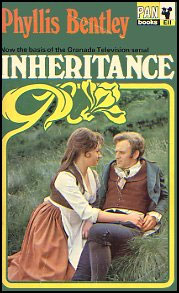 From an early age, Phyllis Bentley had stated her ambition was to be a novelist. After several rejections from publishers, in 1928 Phyllis commenced her long association with the Gollancz publishing house. They agreed to publish her novel, appropriately entitled, "The Partnership".
Her masterpiece, 'Inheritance' was published in 1932. It tells the story of the Oldroyd family, set against the background of the development of the textile industry. The book received widespread critical acclaim. Two further novels continued the Oldroyd family saga, 'The Rise of Henry Morcar' and 'A Man of His Time'.
In 1967 Granada Television began the serialisation of the trilogy. Filming began in both Calderdale and Huddersfield. The ten-part series featured John Thaw and James Bolam in leading roles. The success of her novels resulted in Miss Bentley being much in demand as a public speaker. She regularly gave lectures, both in this country and abroad and was an expert on the Bronte family.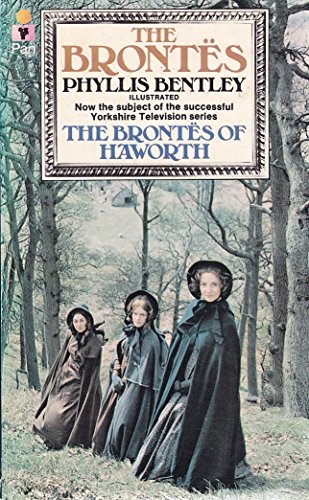 Phyllis Bentley was an active member of the Halifax community. She had strong connections with the Halifax Authors Circle and the Womens Luncheon Club. For a time she was also president of the Halifax Thespians. Voluntary work at the Halifax Child Welfare Clinic brought her into contact with children and parents from poorer families. This contributed to her sympathetic treatment of poverty in her writings. In 1963 she moved into Grange House at Warley, a 17th century yeoman clothier's house. Visitors to the house would remark on the orderly nature of the rooms. She had a daily housekeeper stating that she "always hated housework". A supporter of young writers, she spent many hours answering correspondence, giving advice to those beginning their literary careers.
In recognition of her talent, Phyllis received several awards. In 1949 she was awarded a honorary Doctor of Literature (DLitt) from Leeds University. In 1958 she became a Fellow of the Royal Society of Literature and in 1970 was awarded an OBE.
Phyllis Bentley was a regular user of the Library in Halifax. As part of her 80th birthday celebrations, the Library held an exhibition of her work. Original manuscripts were on display, together with items from her desk, including a calendar and pencil case.
On the 27th of June 1977 at Ing Royde Home, Phyllis Bentley died. Her desk and chair were amongst items bequeathed to the Library. These are now on display in the Reference and Local Studies library. The diaries and correspondence are available to view (by appointment) in the Calderdale Archives Department.
The works of Phyllis Bentley can be found at the Reference Library in the Central Library, Halifax. Thank you to Calderdale Council's website for this outline of Phyllis life. In addition to the above she also wrote the script for the famous film "We of the West Riding". View it here
https://www.youtube.com/watch?v=WohhLX_YLlE
, or watch it in the museum's Power Gallery, when we are able to reopen.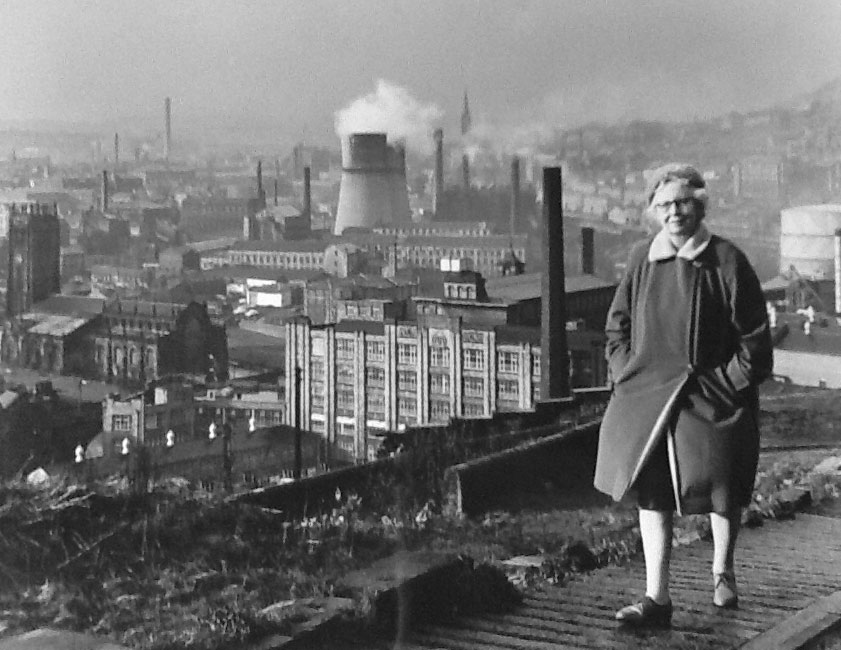 #mylocalmuseum campaign theme "Tales from Long Ago"
We have chosen to focus on the stories of children and women who worked in the local mines.
Pit Children
"I have hurried ever since I was 5 years old" -William Ellis, age 9, Byerley Company's Garden Pit, Halifax
In 1843 1 in 4 Yorkshire coal workers was under 13 years old. Many started work at the age of 5 or 6, some even younger. Girls did exactly the same work as boys. The use of children as pit workers was far more common in this area than the rest of England. Why? The Yorkshire coal seams were narrow. In Halifax they varied from 13" to 27" in height. Roadways, called 'gates', were made as low as possible to make a mine pay.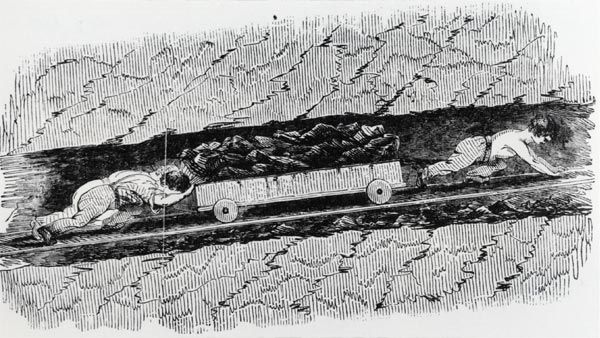 The highest main gate was only 40" and some passages were as low as 16" in places. Even small children could only crawl along.
"I met with … a boy about 8 years old … like a thing, a creeping thing peculiar to the place. On approaching and speaking to him he shrunk trembling and frightened into a corner … " Sub-Commissioner describing his meeting with a trapper 1842.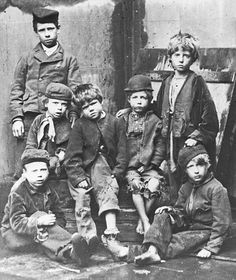 From the age of 6 or 7 many children worked as hurriers, dragging coal-laden corves (cast iron wheeled carts) from workface to main gate. A broad belt was worn with a chain passing between the legs. With the chain hooked on to the corve, the child hauled by crawling on hands and feet like a dog. A full corve weighed up to 5cwt. Crawling, hauling or pushing along dripping, sludgy passages, hurriers covered 6-8 miles a day. The youngest pit children held a candle, or worked as trappers or thrusters. A trappers job was to open and shut ventilation trap doors. Sitting alone in pitch darkness for 12 hours, only an occasional hurrier passed by. A thruster took over handling of a corve once the main gate was reached. Here it ran on rails, pushed from behind by head and hands. Young children thrust in pairs. During their long day's toil, children would snatch dinner of oatcake or wheatcake and butter or lard, when and where they could. For a day's work the youngest earned 6-8d a day. With age and experience the sum increased. In 1842 the average hurrier's wage was 4/81/2d a week.
"I have seen her thrashed many times, when she does not please them they rap her in the face and knock her down." William Dyson, aged 14, about his workmate, Sarah Ambler. Discipline was severe in the mines. For slowness and disobedience, the colliers would slap or throw coals at a child, hit them in the face or with a pick handle. Stealing food was a heinous crime. The offender, often a starving neglected pauper apprentice, was held and beaten by all the pit children in turn.
From 1840-1842 an Inquiry was held into the work of children in mines. The Report on the Inquiry horrified the public. As a result the employment underground of children less than 10 was made illegal.
"I hurry in trousers and ragged jacket: the bald place upon my head is made by thrusting corves. I hurry the corves a mile and more underground and back, they weigh 3cwt, I hurry 11 a day. I wear a belt and chain at the workings to get the corves out; the getters that I work for are naked except for their caps; sometimes they beat me … ; the boys take liberties with me sometimes, they pull me about; I would rather work in mill than coal-pit." Patience Kershaw, age 17, Boothtown Pit, Halifax
By popular agitation, women's work in mines was included at the last minute in the 1840-42 Inquiry. At that time one in sixteen Yorkshire coal workers was female. Whereas boys became coal getters at the age of about 16, girls and women tended to remain hurriers all their working days – although it was not unknown for a very strong woman to get coal. The Report scandalized middle-class Victorians – here were women working on all fours like animals. Women doing heavy manual labour. Women wearing scanty clothing – or as bad – men's clothing. Women working alongside naked men in the bowels of the earth. Female employment was banned in the Mines and Collieries Act of 1842. The ban caused real hardship. Women were thrown out of employment or turned to lower paid work. Some women even voiced regrets … "The work was hard, but not too hard for me … I'd like to work in the pit again. I'd like it better than anything else … " Ann Eggley, ex underground collier, Thorpe's Colliery, 1855.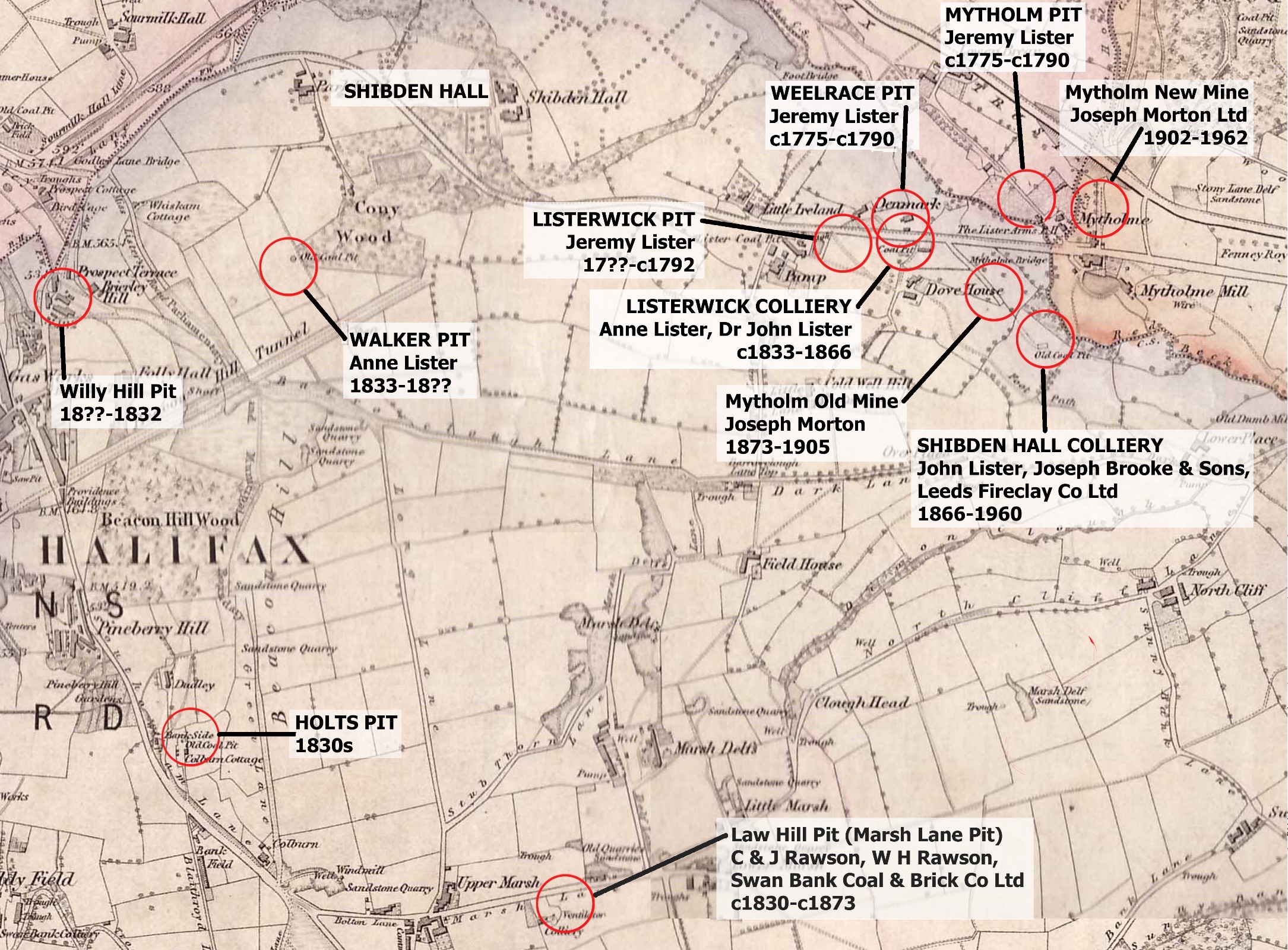 #mylocalmuseum campaign theme "Sport"
We have chosen to feature the game of "Knur and spell". It's a game that is traditionally associated with the industrial areas of the West Yorkshire and Lancashire, so would have been played by the local mill workers.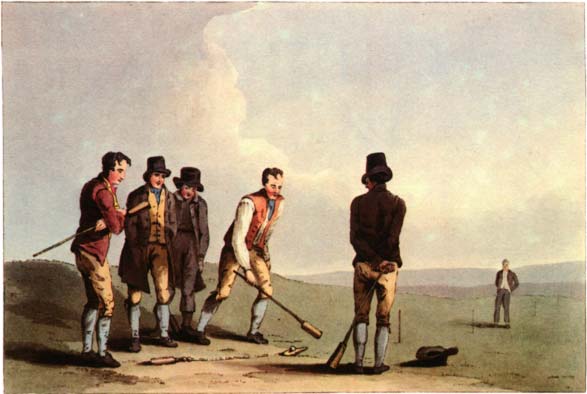 The principle of the game is to strike a small hard ball (the knur), which is either thrown up or suspended in a loop of cord, with a specially constructed stick (the spell). The aim is to drive the ball as far as possible. Shots of up to 300 yards have been recorded. The match was decided by the longest knock, or the best average in an agreed number of knocks. The course was marked with vertical pegs at intervals of 20 yards to facilitate measurements, which were taken over walls, huts or other obstructions. Matches were normally between twenty and thirty knocks, with each player taking five consecutive shots in turn. A referee supervised the contest and the rules were observed rigidly. The game is often called "poor man's golf".
It was particularly popular in the North of England in the 19th and early 20th centuries, and it is thought to have been introduced originally by the Vikings. The name derives from Old Norse, with "Nurspel" meaning "ball game". In medieval times matches were often played on Shrove Tuesday and Good Friday, and inter-village rivalry was common.
In the 19th century the game was very popular, with a match at Wibsey in Bradford in 1859 attracting a crowd of 10,000. Large amounts of money were often wagered, often up to £50 or £100, which would have been an entire year's wages. In the 1920's the Burnley Football Club goalkeeper Gerry Dawson, played for £250 on the moors above the town.
In recent years however the game has fallen out of favour, with few people with the skill to play the game and make the specialised equipment.

#mylocalmuseum campaign theme "Food and Drink"
We have chosen to feature the fascinating story of Mackintosh's with the creation of their toffee and famous "Quality Street" brand. When the museum is open you will be able to visit our large exhibit and find out more.
Joseph Mackintosh, (died 1891) came from an Inverness family driven by poverty to move to Ashton-under-Lyne to work in the cotton mills. He met Mary Jane Burgess during the Cotton Famine caused by the American Civil War in the 1860s Mary Jane was teaching at a school which her father had set up in order to teach unemployed adults, who might not have had any previous basic education. Both were regular church goers and were married in 1865 and over time had three sons and five daughters, one son and two daughters did not survive infancy.
John was born on 7 July 1868, and the family moved to Halifax shortly afterwards. An Uncle, also, John Mackintosh was managing a cotton spinning mill ran by the Bowman Brothers at Union Mills in Pellon Lane and brought in his brother to be in charge of three rooms in the mill.
Young John started work there at the age of ten as a half-timer, his first week's wage was half a crown, and he stayed there for 12 years eventually progressing to be a full time minder of a doubling machine for 56 hours per week.
At an early age he became engaged to Violet Taylor (1866-1932), a confectioner's assistant and a fellow member of Queens Road Church and Sunday School. Bonded by family traditions of worship and education, neither was at all well off, but they lived frugally and saved what money they could spare. They married in 1890 and were determined from the start to find the means to better themselves. A few days after they married they opened up a pastry-cook's shop in Hanover House, King Cross Street while John continued to work full time in the cotton mill.
The shop made meat pies, fruit pies, Madeira Cakes and such, toffee of the hard brittle type of the day was a side line. Caramels of the soft kind were being imported from America at the time.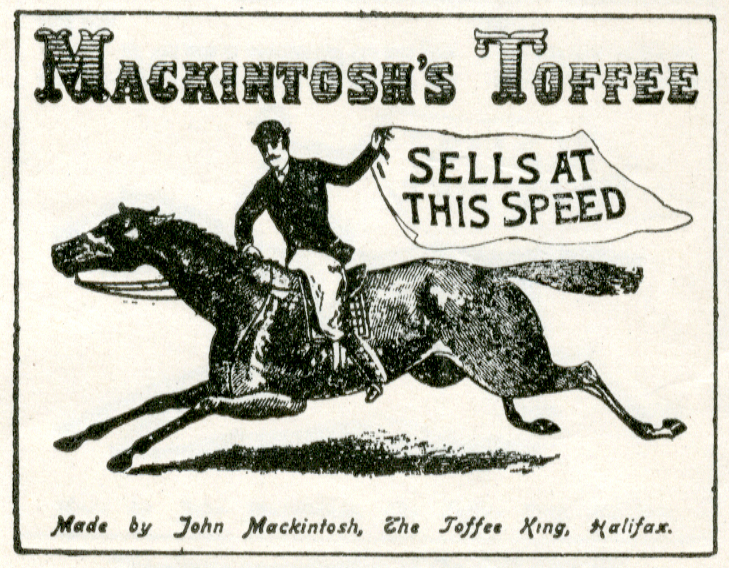 The Mackintoshes had the idea of combining the English Butterscotch with the caramel and after a number of trials created Mackintosh's Celebrated Toffee. Some writers insist on it being Violets idea alone, but as lifelong equal partners in the home, at business, church and charity work it might be argued that it would have probably been a joint effort. They also had a saying "Early to bed, early to rise, never get drunk and advertise". They put that to use with the very first batch which they promoted as free samples to all who came to try this new product. The following week they advertised again saying you were eating at our expense last week; pay us another visit and eat it at your own expense.
The toffee became instantly popular and most of it was sold on Saturday when people from such places as Sowerby Bridge, Pye Nest, Warley and Luddenden Foot habitually walked into Halifax town centre by way of King Cross.
A local company named Marshes started to operate bus services direct into the town centre which caused trade in King Cross to slow down considerably. The Mackintoshes were thus prompted to open a stall in the Borough market and to deal with shops near to the bus stops at the other end. Soon other shops in the surrounding towns started demanding stock so the decision was made for John to leave the cotton mill for good and to start up manufacturing on a more commercial scale. By 1899 they had expanded so much that they built the first confectionery factory in Queens Road.
By 1902 they were using so much butter that John Mackintosh toured Europe to locate sufficient supplies of the right quality. He found what he required in Riga (now Latvia), and bought £5,000 worth of Siberian butter being brought from afar by the new trans-Siberian railway. This would be equal to £600,000 in 2020.
John Mackintosh was the largest toffee manufacturer in the world by 1905. They sold an average of one hundred tons of toffee every week in England. John Mackintosh, at that time, claimed to be the largest consumer of butter in the world. 1906 Mackintosh opened a factory in Germany then in 1908 a factory was opened in Canada.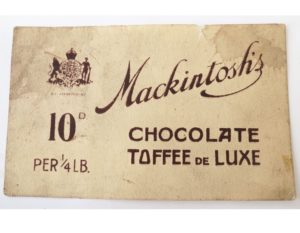 Both John and Violet were deeply involved in local Church and Sunday schools; they sup-ported the temperance society and introduced many welfare and health schemes for their employees. They were particularly supportive of the families of the men that they employed who went off to fight in the 1914-18 war.
John Mackintosh died of a heart attack in 1920 and the running of the company was then taken over by his son Harold. The company acquired a Norwich chocolate manufacturer AJ Caley in 1933. The firm was hence the first to offer products that were a mix of Toffee and Chocolate in the same package, manufactured at both Halifax and Norwich.
Toffee had traditionally been made by pouring the molten toffee out onto large metal top tables. When it had cooled and set it was cut into rectangular lozenges and individually hand wrapped prior to shipping. The introduction of rubber moulds around this time meant that toffees and chocolates could now be made in a variety of shapes. Mackintosh's worked closely with Foregrove of Leeds to develop the first confectionery wrapping process in 1932.
The Quality Street Brand was introduced to the public in 1936. In 1969 the company merged with Rowntree of York to form Rowntree Mackintosh. Quality Street had the largest sale of any confectionery assortment in the world by 1972. Rowntree was acquired by Nestle of Switzerland in 1988. The Norwich factory was closed in 1994.
The Halifax factory continues to manufacture Quality Street, as well as Easter eggs and After Eight mints.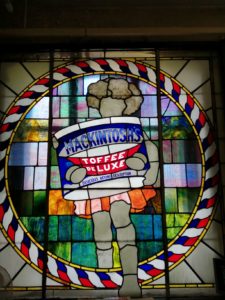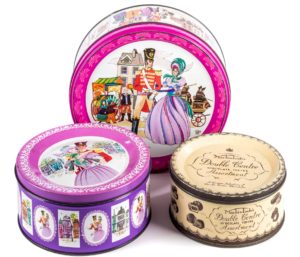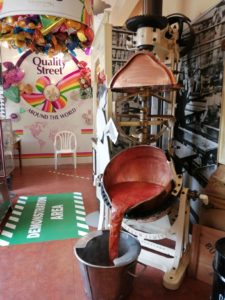 #mylocalmuseum campaign theme "People in Nature"
A surprising interaction with nature is the use of the cork oak tree [Quercus suber] in industry in Calderdale. The cork oak tree is a medium sized evergreen native to southwest Europe, particularly Portugal and Spain, but also to northern Africa. Its most familiar use is for wine bottle stoppers; other uses include cork flooring, the cores of cricket balls, table mats, floatation devices, badminton shuttlecocks and specialist uses within the space industry.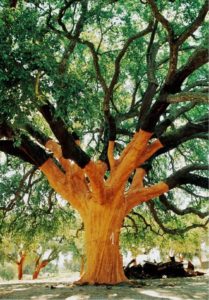 The tree is classed as a pyrophyte, its thick, insulating bark making it well adapted to withstand forest fires. Following a fire this insulating bark allows the cork oak to survive and afterwards to re-grow new branches to replace the canopy.
The cork oak bark grows to a considerable thickness and can be harvested for the first time when the tree reaches about 15 years of age. This operation can be repeated for up to 8 years. To convert the curved surface of bark into flat sheets, dirt or soot is first used to fill the cracks and splits. The material is then piled up in pits, weighted from above. This process works better in damp conditions. Later the bark is carefully dried without burning it.
Cork was used by the ancient Greeks and Romans to sole their shoes, float their fishing nets and as anchor buoys. Swimming floatation jackets and even high heels were made by the Romans, whilst the Ancient Egyptians lined coffins with cork to help preserve the bodies. Spaniards used cork to insulate their house walls.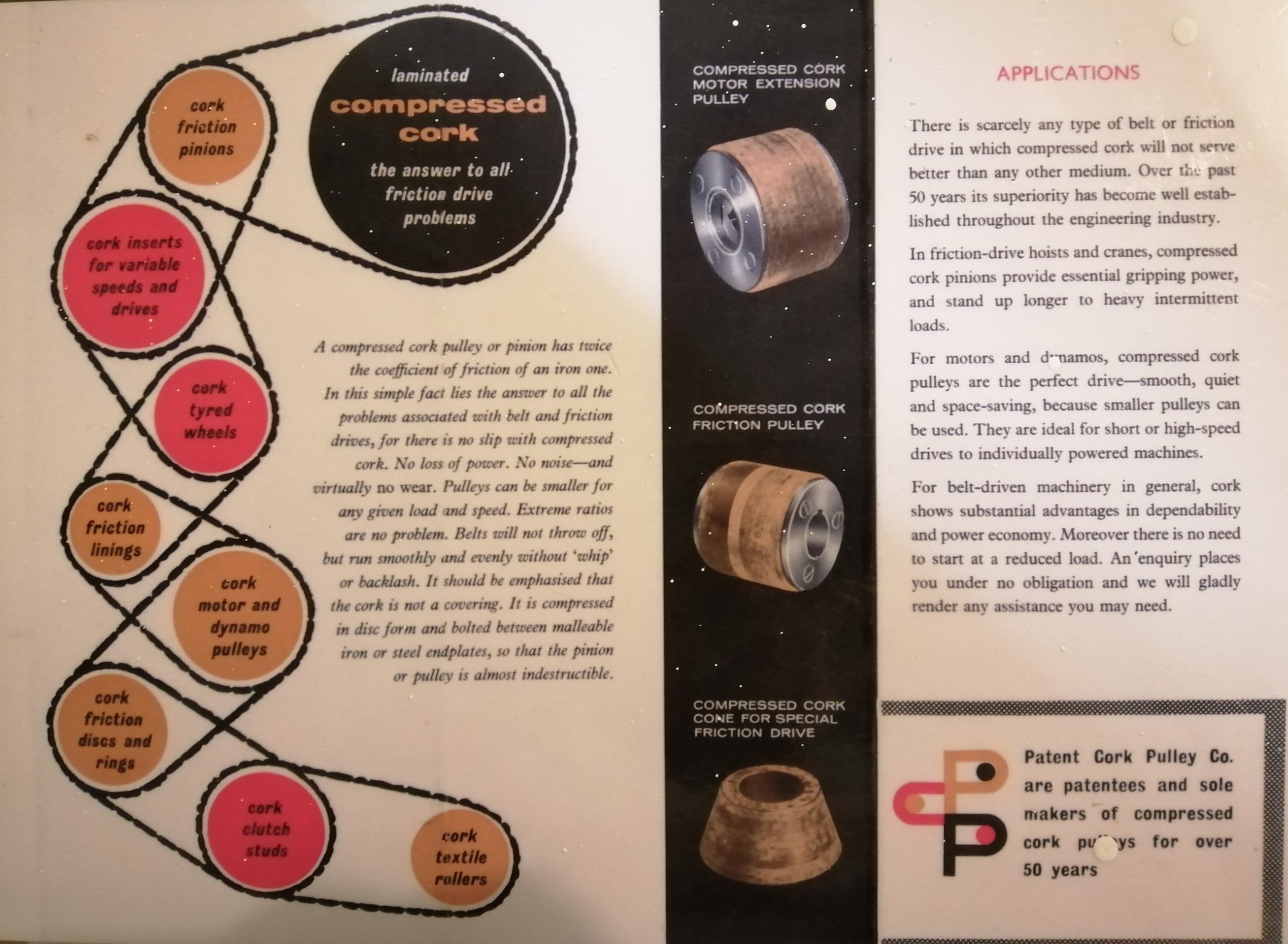 During the 19th century, compressed cork was much in demand as a friction driving material in the busy engineering and textile trades of Calderdale.
The Halifax Patent Cork Pulley Company operated until 1984 and made cork friction pinions, friction linings, textile rollers, motor and dynamo pulleys, in addition to floor covering and bottle stoppers. On it's closure, its machinery was moved to the museum with help from the Science Museum, and is the only display of such equipment in the country. When the museum is able to reopen, come along and see how this fascinating process operated.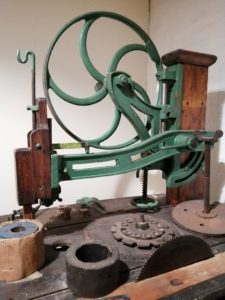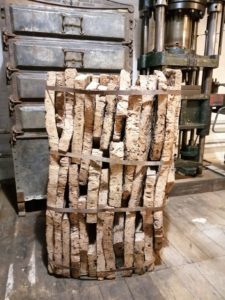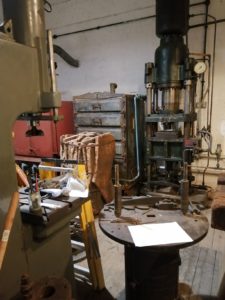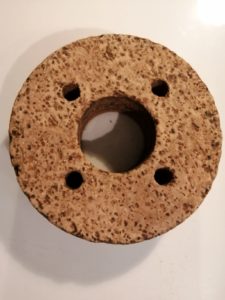 #mylocalmuseum campaign theme " Work Life"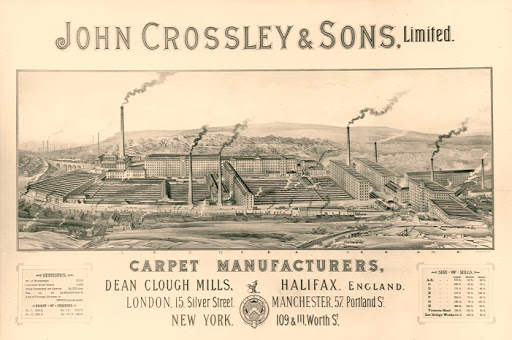 For many workers in Halifax, their life was dominated by the production of carpets in the famous mills of John Crossley and Sons. Carpets were first brought to Britain from the Middle East and Far East in the 11th and 12th centuries by knights returning from the Crusades. It was several hundred years however, before carpet making became an established industry here. Original carpets were thick woven cloths used to cover tables, beds and floors. It was only in the 18th century that the word assumed it's present meaning. Three important carpet making centres at this time were Kidderminster, Axminster and Wilton. They gave their names to types of carpet that are now woven worldwide.
At the beginning of the 19th century Halifax was already a carpet weaving centre with two registered businesses, Robert Abbott & Co. and John Ramsden, however the most famous Halifax manufacturers were John Crossley & Sons. Their innovative approach led to worldwide success. The company was founded in 1802 in a small mill at Dean Clough. By 1872 the company had expanded to employ 6,000 people and their mill at Dean Clough covered more than 20 acres. They prospered due to their promptness in exploiting inventions. They acquired patents for Tapestry carpet weaving in 1833 and 1842 and by 1844 they were the pre-eminent centre for Tapestry carpets in Britain. In 1850 they perfected and patented a steam powered carpet loom, which allowed carpet production to increase 12 fold. In 1869 128,851 pieces were woven on 64 looms at Dean Clough.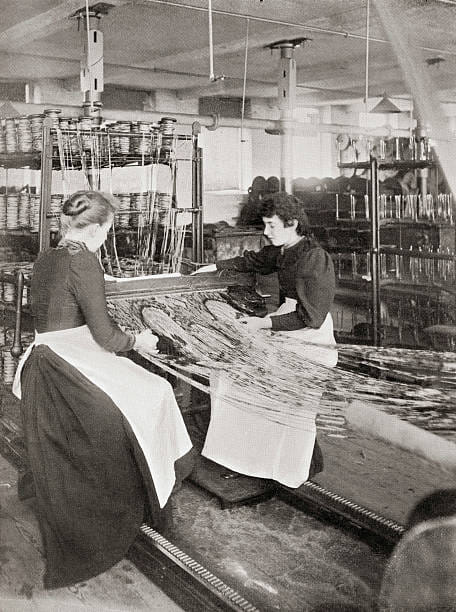 Unfortunately, following a merger with a Kidderminster carpet manufacturer and after a difficult period of recession and cheap imports, Dean Clough Mill was largely closed down in 1982.
John Crossley's motto was " Let every carpet produced by John Crossley and Sons be Its own traveller".
Here are a few images of the some of the looms that we have at the museum, together with an image of some of the workers there in the late 19th century.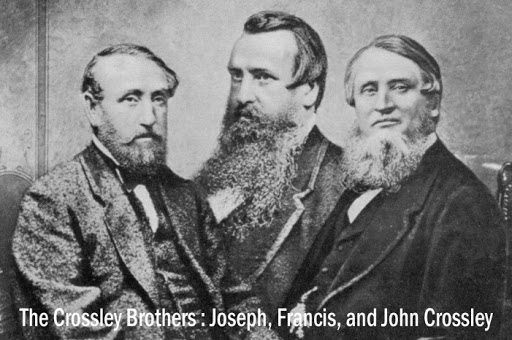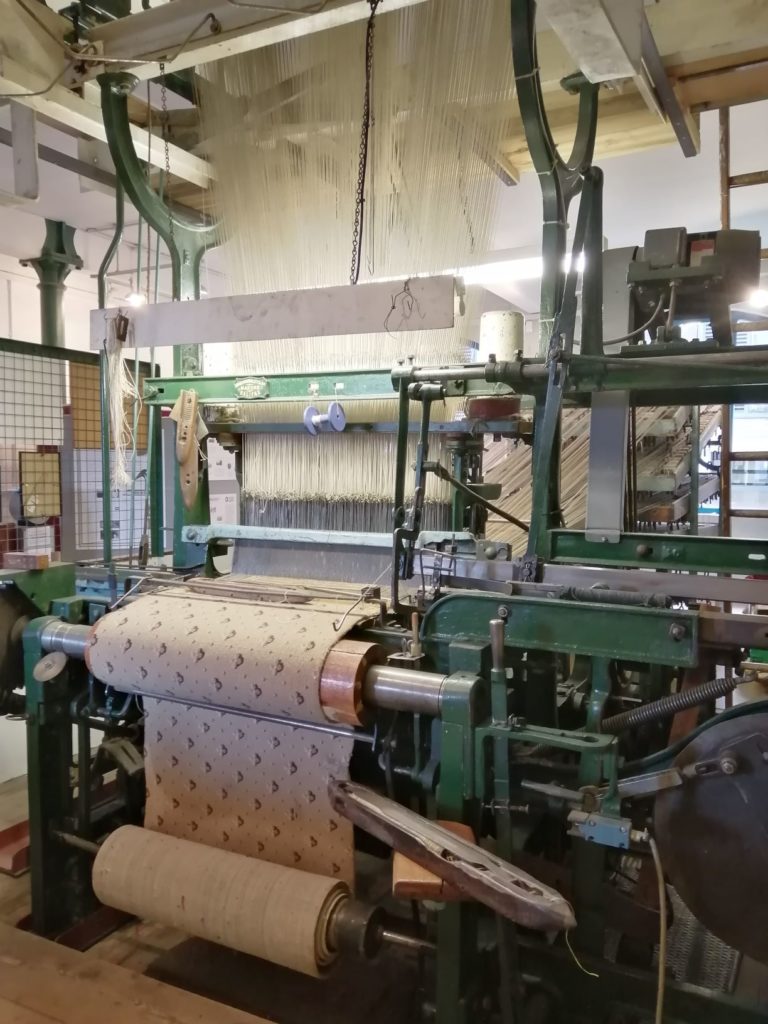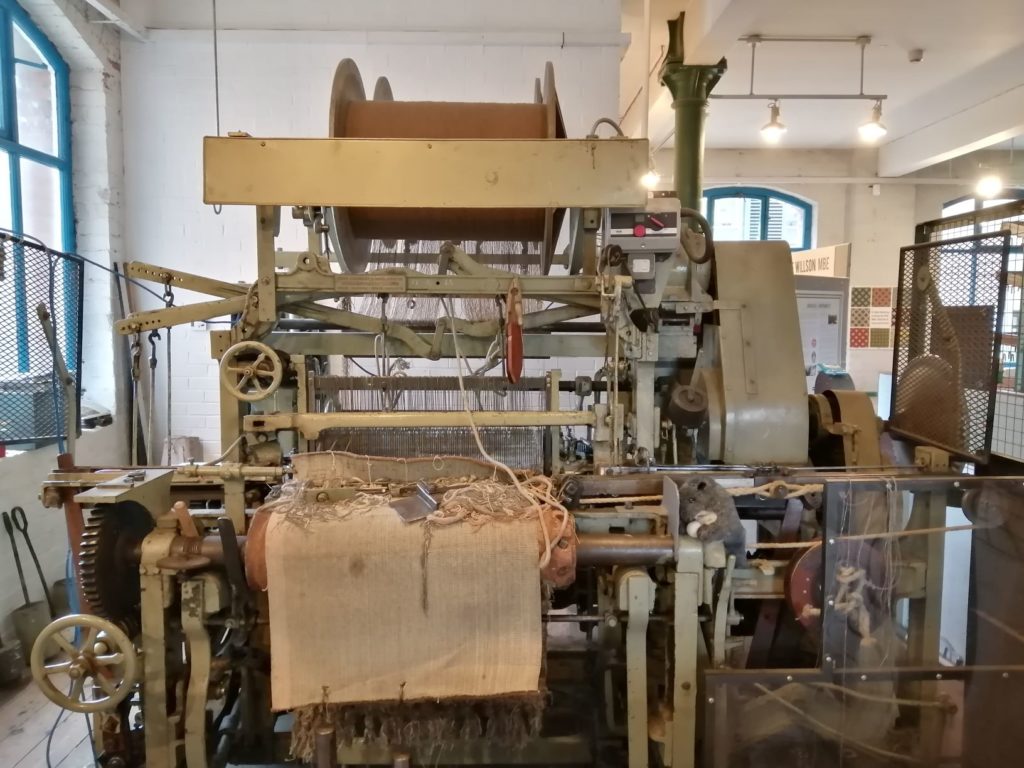 #mylocalmuseum campaign theme  "Travel and the Wider World"
We have chosen to feature the Halifax machine tool company of William Asquith who expanded from humble origins in Halifax in 1865, to successfully export their products throughout the world. Their machines were used to build the railroads in the USA, and when the company had a surplus of stock after the end of the Franco-Prussian war, William chartered a boat, took his stock to Russia and sold it all !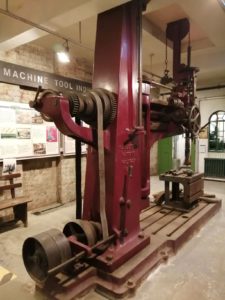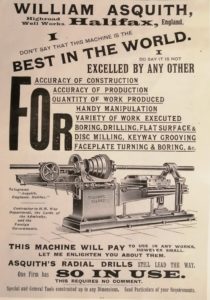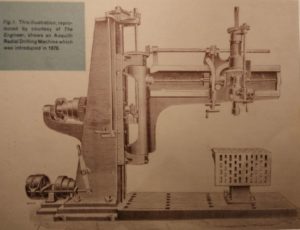 The firm specialised in manufacturing drilling and boring machines, and became famous for its radial drills. They machines were of vital use in the First World War, and in 1924 they supplied all the drilling equipment for the Sydney Harbour Bridge in Australia.
The company still exists today producing a range of computer controlled milling, drilling and boring machines in addition to radial drills.
When the museum re-opens you will be able to see an examples of their famous machines, and find out more about this fascinating and successful company.

New Year's Day 2021 Steam Lorry Visit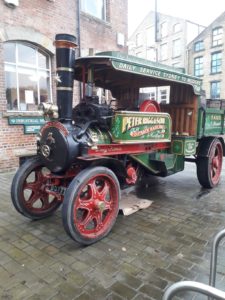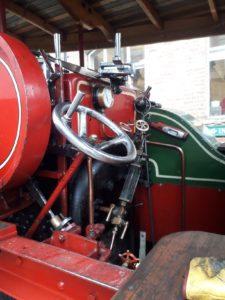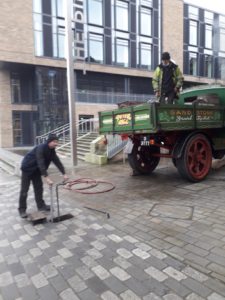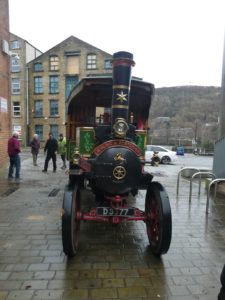 It was lovely to welcome Peter Rigg and his steam lorry to Calderdale Industrial Museum on New Years Day. Peter and his team had driven the lorry from Walsden. The lorry is powered by steam and has a maximum speed of around 19 miles per hour. It is just one of the vehicles in Peter Riggs extensive collection. The museum's outside tap proved useful when refilling the boiler for the return journey !! We are hoping to organise a steam event at the museum sometime in the future.
Whilst the museum is closed why not tour the museum virtually by watching this informative 5 minutes film produced by the Yorkshire Post in January 2019. It features many of our working exhibits with fascinating facts about them from our volunteers.
Refurbishment of the Cork area   
Whilst the museum is closed, the volunteer team is busy refurbishing and planning the re-interpretation of the Cork display. Cork is a fascinating substance that was used extensively in local industry in the past.
It is made from the bark of the cork oak (Quercus suber), the predominant tree species in Portugal. Portugal accounts for just over half of the world's cork output, producing 157,000 tonnes an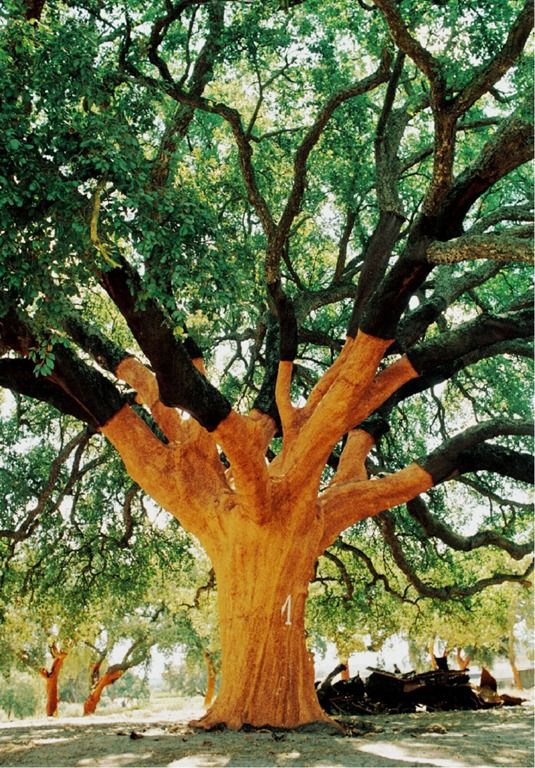 nually. There are also plantations in France, Spain, Italy, Algeria, Morocco, and Tunisia. Over 100,000 people depend on cork growing and processing in these countries.
The bark is harvested for the first time when the tree is 25 years old. Then it is removed every 9-12 years without ever damaging the tree, which lives around 200 years. Cork obtains the qualities needed for the production of wine bottle stoppers, its main application, only after the third harvesting. The tree's acorns are used to feed pigs that make some of the best cured ham Spain and Portugal are famous for.
Thanks to the cork's cell-like structure, the material is elastic, resilient and highly impermeable. The ancient Greeks and Romans used cork in combination with natural resins to stopper wine and oil amphorae. Now, some 70 percent of all cork produced is used to make wine bottle stoppers. Portugal alone makes 40 million stoppers per day.
Entire pieces of cork are also used in footwear, furniture, interior decoration as well as older lifebuoys. The baseball ball has a round cushioned cork centre called a "pill." Ground-up cork is "baked" and compressed to make floor and wall tiles, good for acoustic isolation. Granulated cork is added to concrete for thermal insulation and reduced weight. Shredded cork is used in ablative thermal protection coating on booster rockets, including the Space Shuttle's external tank, which is jettisoned as the ship leaves the Earth's atmosphere.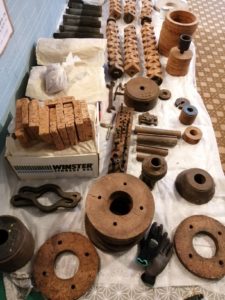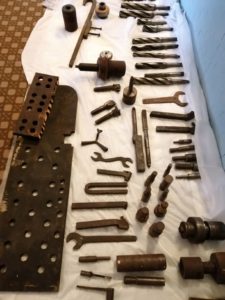 Waterwheel working again
Great news, the waterwheel at the museum has been repaired and restored and is now working again, complete with it's new special golden paddle !
Adrian Wiszniewski writes:
Work started in June 2019 to strip the old buckets away. We started with a risk assessment to put in place the necessary safety systems and procedures to work at a height some 16 feet above the base line of the tank. We began by installing temporary locking bars to prevent the wheel rotating, using chain blocks and slings as an extra layer of safety which also took any backlash out of the arrangement. Wooden removable platforms were made, to fit inside the wheel at axle level, and also to fit the gap between the periphery of the wheel and the front wall of the tank. We had to strip only a yard or so at a time and then rotate the wheel through half a turn to strip the corresponding amount off the other side. This would be repeated at 90 degrees to the first section and so on to keep the balance of the wheel to a manageable degree. The spokes were replaced, one by one, using similar procedures. The COVID 19 crisis caused a lengthy stoppage of work but we can now seethe end in sight and expect to see the wheel back in action, hopefully by early November.
The Team ; Rasoul Hemmapour, Rob Heron, Adrian Jackson, Sandy Mclure, Roger Swift, Adrian Wiszniewski
Privacy Policy        Cookie Policy            Accessibility        Terms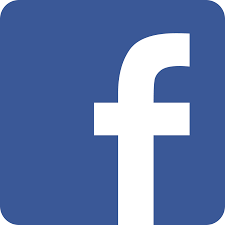 Like us on Facebook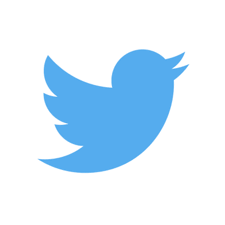 Twitter and  Instagram